Quality. Lives. Here.
Building on a legacy of clinical excellence, driven by innovative thinking, and inspired by our diverse community, 2022-23 was truly a momentous year for William Osler Health System (Osler).
Guided by our Vision, 'patient-inspired health care without boundaries', Osler staff, physicians and volunteers remained steadfast in their commitment to achieving the highest standards of care.
Read our 2022-23 Annual Report to learn more about how Osler's dedicated teams are increasingly delivering innovative, quality-driven health care services closer to home.
A message from Osler's President and CEO and Board Chair
What a privilege it has been over the past year to lead such a dynamic, resilient and dedicated team of Osler staff, physicians and volunteers. They inspired us every day with their commitment to living Osler's Values while delivering on our Vision of 'patient-inspired health care without boundaries'.
Following one of the most challenging periods in Osler's history, our teams rallied together to safely restore many of our programs and services to pre-pandemic levels while remaining laser-focused on achieving the highest standards of excellence in patient care. Thanks to their ongoing diligence, Osler earned Accreditation Canada's highest performance rating for a hospital, Accredited with Exemplary Standing, one of many notable achievements for our teams this past year.
We know that providing a work environment that inspires people to be and do their best leads to positive outcomes and experiences for both our patients and team members. It's among the many reasons we made staff and physician wellbeing a top priority, and further enhanced our focus on equity, inclusion and anti-discrimination.
Our workforce is our most valued asset and we celebrated them across our five sites at our Osler Strong events this year. We also marked the rich legacies of our hospitals through Etobicoke General Hospital's milestone 50th anniversary, Brampton Civic Hospital's 15th anniversary and Peel Memorial Centre for Integrated Health and Wellness' 5th anniversary.
Osler's commitment to excellence extended well beyond the clinical care we provide to include our longstanding roots in research and education. Most notably, this included becoming the primary clinical partner for Toronto Metropolitan University's new School of Medicine and advancing plans for Osler's journey to becoming an academic health centre. As an organization committed to providing the highest possible quality of care, this represents an exciting evolution that will benefit our communities, health care workforce, and especially our patients.
With planning for several exciting redevelopment projects underway, this is a truly remarkable time for Osler. Developing a comprehensive cancer care centre for Brampton and North Etobicoke; transforming Peel Memorial into Brampton's second hospital; planning for the future development of Etobicoke General. Each of these projects will help Osler create a more robust and accessible local health care system.
Osler is laying the foundation for a transformational journey, ensuring we are well-positioned to serve the needs of our communities today and for generations to come. We look forward to working together with staff, physicians, volunteers, our communities, patients, families, donors and valued government and health care partners as we continue to go beyond to deliver high-quality health care close to home.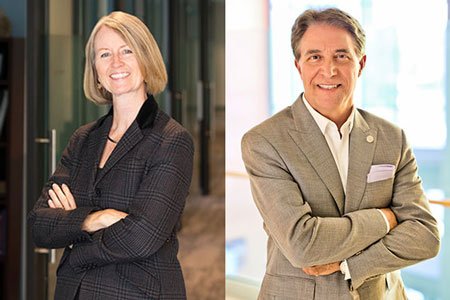 Linda Franklin, Board Chair; and Dr. Frank Martino, President and CEO
A message from Osler's clinical leadership
At Osler, we are proud to say that Quality. Lives. Here. This is our organization's North Star – a testament to the best practice mindset of our talented Osler team and their unrelenting commitment to safe, high-quality, compassionate care. We give thanks for the empathy, respect and resilience they bring to their respective roles every day in the care of our patients.
In 2022, Osler earned Accreditation Canada's highest performance designation, Accredited with Exemplary Standing, following an assessment of our quality and safety practices against internationally-recognized standards of excellence. We also received a prestigious national award for excellence in patient safety and were recognized for five global leading practices.
As Osler moves forward with plans to develop a comprehensive cancer care centre for the region, a strong foundation has already been set; we are one of only three centres in Canada – and the only community hospital – to be accredited for excellence in integrated cancer and palliative care.
Osler also became the first acute care hospital in the world to successfully implement a ground-breaking approach to care for seniors living with dementia. Notably, in our ongoing efforts to deliver specialized services closer to home, we performed our first surgery to treat life-threatening heart rhythms.
Our continuous pursuit of excellence was rewarded when Osler became one of the first hospitals in Canada to be recognized for reducing the overuse of common, but unnecessary, tests, treatments and procedures.
This past year also marked the second year of our three-year journey of becoming a globally recognized Best Practice Spotlight Organization, further reinforcing our commitment to deliver the highest standards of care and support the best possible patient outcomes.
It's an exciting time at Osler, where evidence-based best practices and our Values of 'Excellence' and 'Innovation' have become synonymous with how our teams deliver care. Across Osler's five sites, patients are in the hands of health care professionals dedicated to providing exceptional levels of care in every aspect of their work.
It is truly a privilege to lead such an innovative, skilled and compassionate team of staff and physicians. Their approaches to care are inspired daily by the voices of patients, families, colleagues, and mentors, and by Osler's Vision of 'patient-inspired health care without boundaries'.
Kiki Ferrari, Chief Operating Officer; Dr. Brian Klar, Interim Chief of Staff; and Tiziana Rivera, Vice President, Quality, Research and Chief Nursing Executive
Osler by the numbers
| Patient visits: 1,085,225 | Surgeries: 66,954 | Diagnostic services: 549,240 | Outpatient clinic visits: 523,298 |
| --- | --- | --- | --- |
| | | | |
| Emergency visits: 278,916 | Inpatient admissions: 48,575 | Virtual care visits: 70,000+ | Births: 7,093 |
| --- | --- | --- | --- |
| | | | |
2022-23 highlights
Setting the bar for quality
Our relentless pursuit of excellence has not gone unnoticed. After rigorous evaluations and assessments, we've earned several esteemed accolades and distinctions for our unwavering commitment to quality over the past year. These accolades stand as a testament to our tireless efforts to push boundaries, raise standards, and deliver the best possible outcomes for our patients.
Building a health system for the future
As a leading hospital system in Ontario, we are looking ahead to a bold future for health care with exciting developments on our horizon, and 2022-23 set the foundation for one of the most exciting chapters in our history. The redevelopment of Peel Memorial into Brampton's second hospital, planning for the future development of Etobicoke General, expanding cancer care services for our region, and partnering with Toronto Metropolitan University to open a new School of Medicine are just a few examples of how we're building a health system for the future.
Innovating for healthier communities
Over the past year, our teams drew inspiration from the voices of patients, families, staff, physicians, volunteers, donors, and community partners. In doing so, they adopted new services and models of care that enhance the lives of our patients and families, all while applying a best practice mindset and demonstrating a talent for innovation.