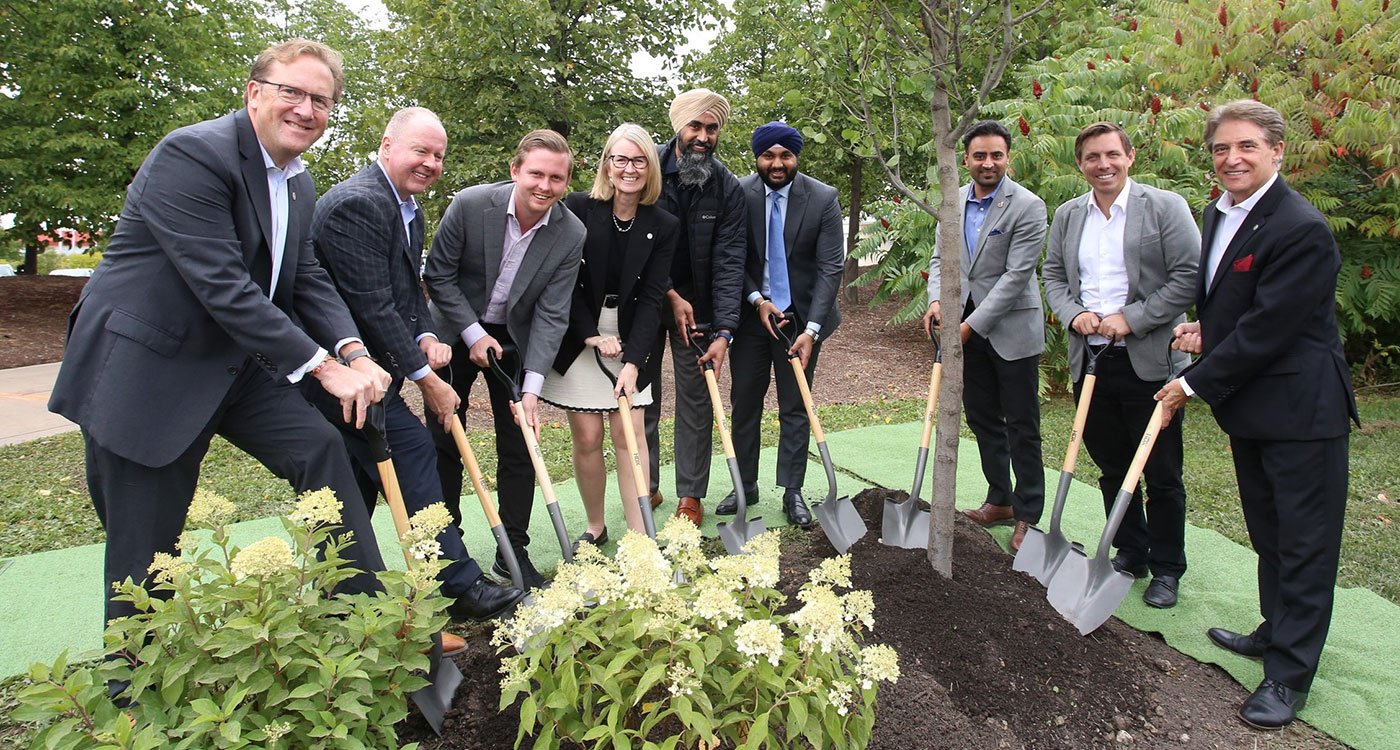 Yesterday, William Osler Health System (Osler) welcomed Graham McGregor, MPP for Brampton North; Hardeep Grewal, MPP for Brampton East; Amarjot Sandhu, MPP for Brampton West; His Worship Patrick Brown, Mayor of Brampton; and other dignitaries to Osler's Brampton Civic Hospital to mark the hospital's upcoming 15th anniversary. To recognize the hospital's years of quality, compassionate care to the community, a commemorative tree planting ceremony took place on hospital grounds, followed by a dignitary tour showcasing Brampton Civic Hospital's areas of excellence.
Brampton Civic Hospital opened its doors on October 28, 2007, and has since attracted a stellar team of staff, physicians and volunteers with a shared passion to serve the culturally-diverse and rapidly-growing communities of the Brampton area. Offering a wide range of leading-edge inpatient, outpatient and diagnostic services, the hospital also delivers specialized services in critical care, cardiac care, dialysis and kidney care, cancer care, endovascular, and palliative care. Brampton Civic Hospital is also home to one of the busiest emergency departments in Canada, and to one of the largest mental health and addictions programs in the province.
As Osler looks to the future and the vital health care needs of the region, plans are underway to expand its cancer care program into a comprehensive cancer care centre to bring more services, including radiation treatment – currently not available in Brampton – closer to home for the community.
"As Brampton Civic Hospital marks its 15th anniversary, we celebrate those who have played an instrumental role in its past, those who serve patients today, and those who are helping to shape the future of health care in Brampton and the surrounding region," said Linda Franklin, Board Chair, William Osler Health System. "This includes the dedicated Osler team members who support exemplary patient care; patients and families whose voices shape the hospital's programs and services; elected officials, government leaders, health system and academic partners who support us and play a key role in collaboration; and the invaluable Osler Foundation, donors and community members who inspire us every day."