Executive team
Osler's senior leaders are highly accomplished, collaborative and skilled in their respective areas. In addition to their commitment and expertise, our leaders share a passion for their work and an unwavering commitment to high-quality, compassionate and patient-inspired care.
Dr. Frank Martino, President and CEO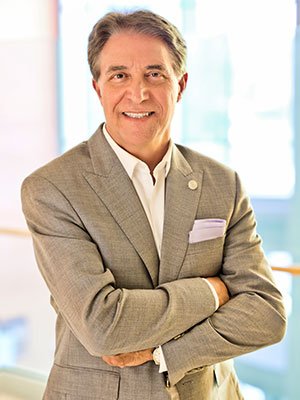 Dr. Martino is a highly accomplished physician and visionary health care leader whose breadth of work has had a fundamental impact on advancing the health of individuals in Osler's community and beyond through his contributions as a family doctor, clinical educator, medical leader and respected advisor at health care planning tables regionally, provincially and nationally.
He has practiced family medicine in Brampton for more than 30 years, where he remains active in the obstetrics, inpatient care and the emergency departments at Osler's Brampton Civic and Etobicoke General Hospitals.
Throughout his career at Osler, Dr. Martino has consistently stepped up to the plate when called upon to provide strong physician and organizational leadership. Highly respected amongst his peers, he has served effectively as Osler's Interim CEO, Interim Executive Vice President of Quality and Medical Affairs, and as Corporate Chief of Family Medicine. In 2012, he was appointed Primary Care Lead for the Central West Local Health Integration Network, where he led efforts to improve primary care integration within the local health care system through practice and system change.
A former Board Chair of the Ontario College of Family Physicians and former President of The Ontario College of Family Physicians, Dr. Martino continues to serve on provincial and regional committees that work to improve the quality of health care locally and across Canada. As a clinical educator, he has been teaching medical residents and students for over 20 years and was instrumental in creating Osler's family medicine teaching program. He is currently an associate clinical professor at McMaster University.
Dr. Martino is a past recipient of the Reg Perkins Award as Ontario Family Physician of the Year and the Award of Excellence from the College of Family Physicians of Canada. He is a graduate of the Family Medicine and Emergency Medicine Residency Program at the University of Toronto.
Clint Atendido, Vice President, Clinical Services
A registered nurse with more than two decades of health care leadership experience, Clint Atendido is a highly respected critical thinker with an exceptional ability to lead teams through complex processes. Responsible for the effective and efficient operation of Osler's clinical and support services since 2018, his leadership is essential to continually improving the patient experience and supporting the delivery of safe, quality care.
With an aptitude for uniting and inspiring high performing teams, Clint has been instrumental in mobilizing and leading cross-functional teams to support Osler's COVID-19 response, optimize patient flow across a multi-site organization, and spearhead several redevelopment projects.
Clint's portfolio includes oversight for Osler's emergency, critical care, diagnostic imaging and laboratory, access and flow, mental health and addictions, medicine, rehabilitation and other clinical services. Clint has also led numerous quality-focused initiatives designed to improve patients' care experiences and outcomes, and strategically engages with community partners where there are opportunities to better meet patient needs from a health systems perspective. Most recently, this included working with Peel Regional Police to support the safe and effective transfer of patients in distress to hospital.
Clint received his Bachelor in Science in Nursing degree from McMaster University and completed the combined Master of Nursing/Master of Health Science in Health Administration program at the University of Toronto. A committed lifelong learner, Clint is a Certified Health Executive through the Canadian College of Health Leaders.
Jane deLacy, Vice President, Clinical Services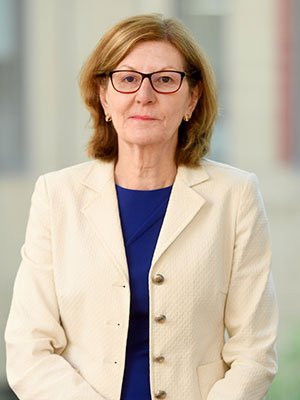 An accomplished health care executive and highly respected 'connector,' Jane deLacy has a gift for bringing the right people to the table to improve the patient experience. Through a dedicated focus on innovation, technology and best practice, Jane ensures Osler consistently delivers excellent, high quality services to support patients and their families.
Since arriving at Osler in 2009, Jane has held progressively senior roles that reflect her passion for excellence and her belief in the power of collaboration. In addition to overseeing an extensive portfolio of health care services, she continually works to build partnerships internally and with others across the community, region and province to improve the delivery of care to patients. This includes leading Osler's work to support the integration of services as a partner in the Brampton Etobicoke Ontario Health Team.
Jane's portfolio includes oversight for Osler's cardiovascular, renal, chronic disease, oncology, palliative, surgical and ambulatory care services, as well as specialized care for seniors, women and children.
Jane is a registered nurse with an Honour's Bachelor of Administrative Studies (Health) from York University and a Master of Health Sciences in Health Administration from the University of Toronto. Prior to joining Osler, Jane held senior leadership positions in both academic and community health systems for many years.
Sarbjit Dheri, Vice President, Finance and Deputy Chief Financial Officer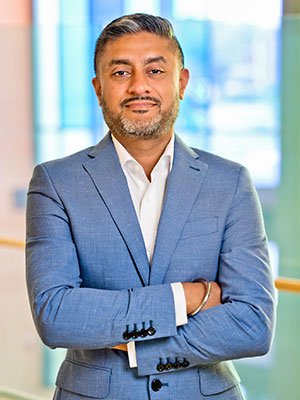 As the Vice President, Finance and Deputy Chief Financial Officer, Sarbjit Dheri provides senior leadership across Osler's Finance team, with oversight of the financial planning, internal controls and reporting functions to ensure delivery of the most efficient and quality care to patients and families. Sarbjit is a values based leader focused around building teams that strive for performance and productivity to achieve common goals.
Sarbjit has had an extensive background in accounting, budgeting and financial analysis leadership in the health care industry, having worked in senior finance positions at the Hospital for Sick Children, Headwaters Health Care Centre and a number of years in progressive roles at Osler. Through more than 15 years in health care, Sarbjit has gained an in-depth understanding of various funding models and is well versed to guide the organization through its strategic priorities while delivering on fiscal accountability.
Sarbjit is a Certified Public Accountant and holds an Honours Bachelor of Commerce degree in Finance and Accounting from Toronto Metropolitan University. Sarbjit has also completed the Advanced Health System Leadership Program through the University of Toronto's Rotman School of Management.
Kiki Ferrari, Chief Operating Officer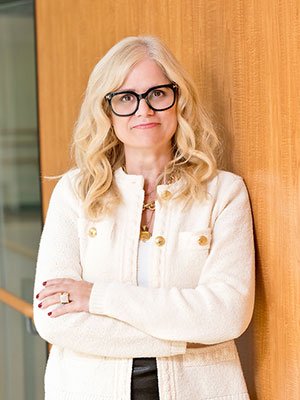 Kiki Ferrari is an outcomes-driven senior health care leader with a passion for delivering integrated, compassionate, high quality care and advancing Osler's Values. Bringing more than 30 years of health care experience to her role, she leads the delivery of the clinical programs and services that Osler's community depends on, with a lens to their needs both now and in the future.
Since arriving at Osler in 2009, Kiki has served in progressively senior roles where she has inspired high performing teams to transform how Osler delivers care and how patients and families experience care. Nowhere has this been more evident than during the COVID-19 pandemic when Kiki was able to seamlessly pivot Osler operations to allow the organization to care for the most COVID-19 patients in Ontario, while simultaneously introducing unique programs such as COVID@Home.
Throughout her tenure, teams under her leadership have successfully expanded programs such as virtual care, and improved wait times for many services. Highly respected for her compassionate and person-centred approach to leadership, Kiki and her teams have been honored with several Leading Practice awards from Accreditation Canada, as well as other national and provincial awards.
A firm believer in the power of collaboration, Kiki worked with community partners to help create the Brampton Etobicoke Ontario Health Team, a collaborative with a mandate to achieve a more integrated health care system and improve overall community health.
Prior to her current role, Kiki served as Osler's Director of Emergency and Critical Care, and more recently, as Executive Vice President, Clinical Services.
Kiki began her career at the Scarborough Health Network as a Registered Respiratory Therapist. She has a Master of Business Administration from Charles Sturt University and is a Certified Health Executive with the Canadian College of Health Leaders.
Ann Ford, Executive Vice President, Corporate Services and Integrated Health Systems
Embracing a passion for health system transformation, Ann Ford is an astute relationship-builder and results-driven senior leader who firmly believes that partnerships and collaboration drive innovation, strengthen patient care and improve access to services. In her role at Osler, Ann actively leads and promotes strategic initiatives that reach across the continuum of care and focus on improving health system capacity.
Ann works closely with multiple stakeholders including provincial and municipal governments, academic institutions, community health services partners, peer hospitals, patients, caregivers and clinical teams to develop, implement and support the transformational initiatives that enable Osler to provide the best possible care to its community. She also leads Osler's facility operations and redevelopment teams with a focus on providing safe health environments, as well as planning for the upgraded or new infrastructure that will best serve Osler's patients now and into the future.
Ann holds a Bachelor of Science in Microbiology from Colorado State University and a Master of Science, Health Administration from the University of Colorado. She maintains membership in numerous professional societies including the Canadian College of Health Leaders and the American College of Health Executives. She is also a member of the Hospital Diagnostic Imaging Repository Services Board of Directors, serving as its Governance Committee Chair.
Cara Francis, Vice President, Communications and Stakeholder Relations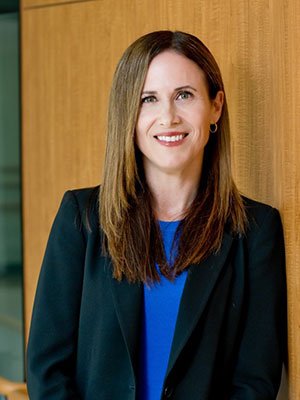 An award-winning communications professional, Cara Francis is known for successfully leading organizations through high profile, challenging issues. She is highly proficient in galvanizing small teams to drive strategic communications and stakeholder relations strategies that support the achievement of organizational priorities and garner positive shifts in reputation and engagement.
With more than 20 years in the hospital/health care sector, Cara has extensive experience in brand building, reputation management and crisis communications, and a proven track record for leading successful media, public relations, digital media, and community and government relations strategies for complex organizations.
In her almost 10 years with Osler, Cara has also served as Regional Director, Public Relations, where she led media and external relations for the hospital, as well as the Central West Community Care Access Centre and Headwaters Health Care Centre – successfully implementing integrated communications strategies to promote the organizations and their partnerships.
Prior to her role at Osler, Cara was part of a dynamic team of public affairs professionals with the Ontario Hospital Association, and a communications lead with the University Health Network's information technology department.
Cara holds a Bachelor of Arts degree in English Rhetoric and Professional Writing from the University of Waterloo. She has also completed the Central West Local Health Integration Network Advanced Health System Leadership Program through the Rotman School of Management at University of Toronto.
Kelly Kimens, Vice President, People Services and Organizational Development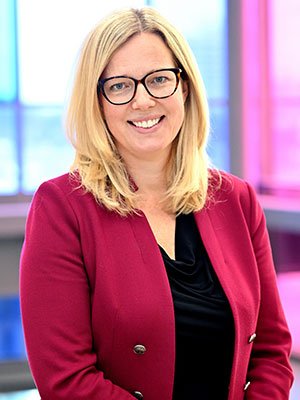 As the Vice President, People Services and Organizational Development, Kelly Kimens provides senior leadership across Osler's Human Resources team, spearheading the development of our people strategy for the organization. Kelly is a passionate executive focused on creating a people-centred culture that aligns with Osler's Values and Mission. She is a Certified Human Resources Professional and Certified Executive Coach.
Kelly has had a successful 20+ year career with a variety of progressive leadership roles across the broader public/health care sector in Ontario. Prior to her current role, Kelly served as the inaugural Chief Human Resources Officer for the new government start-up Financial Services Regulatory Authority. She has also held senior leadership roles at Public Health Ontario, Humber River Hospital and the Canadian National Institute for the Blind. Kelly is currently the Past Chair of the Board for the CNIB Deafblind Community Services.
Kelly is known in the industry as a values based leader with a focus on culture, leadership and engagement. Kelly brings a passion for health care and a successful track record of leading business and strategic corporate initiatives with a focus on continuous improvement, people and culture.
Florine Lobo, Chief Administrative Officer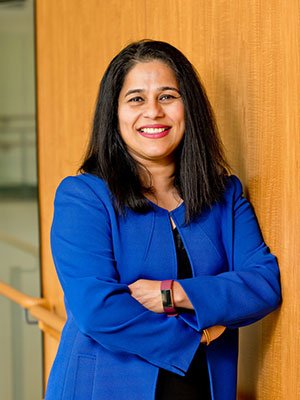 Florine Lobo provides executive leadership for Osler's Financial Services, Human Resources, Organizational Development and Organizational Performance departments. With key responsibilities for Osler's people and financial resources, Florine helps ensure excellent, respectful and compassionate care for all patients. She has an in-depth knowledge of financial and clinical service environments across the continuum of care and service delivery. Passionate about systems transformation, she is very focused on strategic initiatives with an aim to improving system capacity with a continued focus on quality and patient safety.
Florine's vast knowledge of financial and clinical services spans health care, public accounting and academia. Prior to her current role, Florine served as Joint Chief Financial Officer for Osler and its partners, the Central West Community Care Access Centre and Headwaters Health Care Centre, and where she led the allocation of resources to support more seamless care across the partner organizations. She is also formerly the Vice President, Finance and Corporate Services and Chief Financial Officer at Joseph Brant Hospital.
Active in her community, Florine has served as the Treasurer of the Board of Directors of North Hamilton Community Health Centre. She is currently Chair of the Program Advisory Committee of the School of Business of Centennial College in Toronto.
Florine is a Chartered Professional Accountant (Ontario), Certified Public Accountant (Delaware State) and Chartered Global Management Accountant (USA). She also holds a Master of Business Administration from Laurentian University and a Master of Commerce from Mumbai University, India.
Ken Mayhew, President and CEO, William Osler Health System Foundation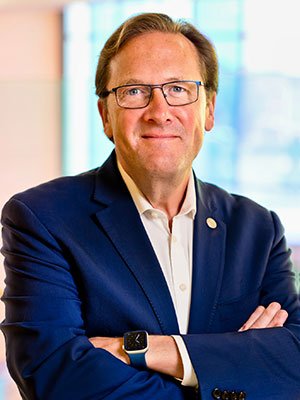 Ken Mayhew is a dynamic and highly respected senior fundraising executive with a passion for cultivating donors who share Osler's commitment to deliver exceptional health care close to home. Through his exemplary leadership, Osler Foundation has experienced continuous revenue growth, recently exceeding its $100M campaign goal by $9M to support redevelopment and ongoing equipment needs at Osler's Brampton Civic Hospital, Etobicoke General Hospital and Peel Memorial Centre for Integrated Health and Wellness.
Prior to joining Osler in 2012, Ken spent 20 years with the MS Society of Canada where he was responsible for all aspects of marketing, communications, media and fund development for a program with almost one million active donors, raising over $50M annually.
An active and passionate volunteer, Ken is immediate Past Chair of the Association of Fundraising Professionals (AFP) Canada. He is also Past President of the local AFP chapter. Ken's ongoing involvement with AFP, Imagine Canada and the Rideau Hall Foundation includes government relations and media work to profile the importance of philanthropy as an enabler of Canada's robust and inclusive social fabric. He is a frequent sector spokesperson and has been featured in numerous podcasts, panels, interviews and media pieces.
Among many honours, Ken has been recognized with a CEO in Action award from the Diversity Journal for his work in inclusive board and fundraising development. He was named 2019 Fundraiser of the Year by AFP Toronto and in 2022 became a Paul Harris Fellow—the highest award in Rotary, given to a member of the public who has made an outstanding contribution to the community. Ken's career will be featured in Peter Mansbridge's upcoming book 'How Canada Works – The People Who Make Our Nation Thrive'.
Tony Raso, Vice President, Clinical Services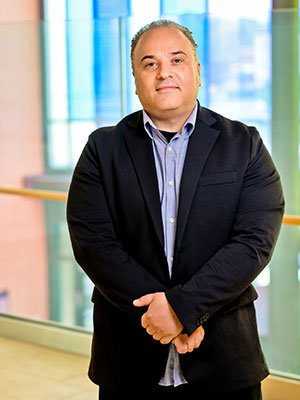 Tony Raso is a results-oriented, collaborative, authentic leader who is passionate about quality patient care. He has over 23 years of health care experience at Osler and has taken on progressive leadership roles, most recently as the Associate Vice President, Clinical Practice and Quality.
Tony has made significant contributions to Osler on numerous fronts. He is unwavering in the pursuit of quality and process improvement and has introduced many patient safety best practices, elevated professional practice and made many enhancements to hospital operations. He was instrumental in leading Osler's organizational readiness for the recent Accreditation survey in which Osler successfully achieved Accredited with Exemplary Standing. Tony played a pivotal role in championing organizational patient safety as recognized through the Canadian College of Health Leaders 2022 Excellence in Patient Safety Award. He also led the development of Osler's transformative and award-winning iHuddle Boards – a global leading practice as recognized by the Health Standards Organization and Accreditation Canada.
Tony's portfolio includes oversight for Osler's support services, pharmacy and regional renal programs. He is also supporting Osler's transition to an integrated health information system. Tony is a Registered Respiratory Therapist and completed a Masters of Leadership at the University of Guelph.
Tiziana Rivera, Vice President, Quality, Research and Chief Nursing Executive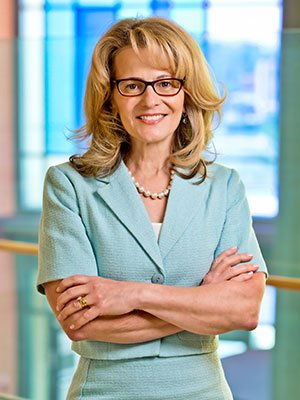 Tiziana is a visionary nurse executive who has provided strategic change leadership in her clinical, professional practice, administrative and governance roles. As a values based, solution oriented professional, she has mentored high performing teams to support the delivery of safe, evidenced informed, high quality care across the continuum of care. She has extensive experience and expertise in supporting and influencing the development and use of evidence based best practices grounded in quality and patient safety to advance quality and positive patient outcomes and patient experience. Tiziana's leadership encompasses Professional Practice, Academic Partnerships, Quality, Patient Safety, Research and Ethics.
Tiziana is a recipient of the Nursing Award of Excellence in Nursing Leadership through the Ontario Hospital Association and has published numerous articles in referred journals, conducted several research studies and presented her papers provincially, nationally and internationally.
Tiziana has worked closely with the Registered Nurses' Association of Ontario to support the international adoption of best practices and supported two Ontario hospitals in their journey towards achieving Best Practice Spotlight Organization status. She has served on several Boards and is currently teaching in the undergraduate nursing program at Toronto Metropolitan University. She also holds an Adjunct Lecturer appointment at the Lawrence S. Bloomberg Faculty of Nursing, University of Toronto as well as an Adjunct Professor appointment at Humber College Institute of Technology and Advanced Learning.
Prior to joining Osler, Tiziana led innovative, technology-enabled health care as Chief Nursing Executive and Chief Practice Officer at Mackenzie Health as well as the strategic development of seniors' health services at Trillium Health Partners.
A graduate of Toronto Metropolitan University's Bachelor of Science in Nursing program, Tiziana holds a Master of Science in Nursing and an Acute Care Nurse Practitioner certificate from the University of Toronto. She has achieved the Canadian Nurses Association certification in gerontological nursing, is a Certified Health Executive through the Canadian College of Health Leaders and is a surveyor with Accreditation Canada.
Dr. Greg Rutledge, Chief of Staff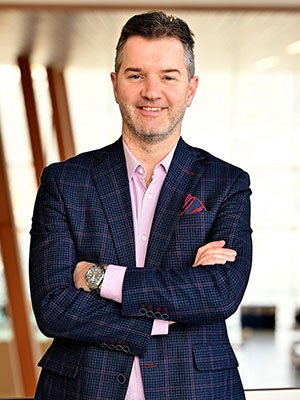 As Chief of Staff at William Osler Health System, Dr. Greg Rutledge is an accomplished physician with extensive experience in emergency medicine and health care leads. His remarkable career spans over two decades, Greg has been instrumental in shaping emergency medicine in Ontario, and has held the position of Regional Lead of Emergency Medicine at Ontario Health West since September 2020, contributing to enhancing health care services in the region. His pivotal role as Chief Emergency Medicine at St. Joseph's Healthcare Hamilton highlights his dedication to excellence in emergency medical care.
During the course of his career, Dr. Rutledge has been actively involved in medical education and assessment. He has played a significant role as a Program Director for the CCFP(EM) Program at McMaster University, contributing to the training and development of future emergency medicine professionals. His involvement with the College of Family Physicians of Canada includes serving on the Examinations Committee for the CCFP(EM) Examination.
Greg's commitment to health care extends beyond hospital walls serving as the Medical Director for the Toronto Marlies Professional Hockey Team since July 2016. Additionally, he serves as the on-site Emergency Physician for the Toronto Maple Leafs Hockey Club, showcasing his expertise in handling medical emergencies in high-pressure environments.
With an impressive portfolio of experience, including roles as an Emergency Medicine Physician at St. Joseph's Healthcare Hamilton and Hamilton Health Sciences Corporation, Greg Rutledge has demonstrated a commitment to providing high-quality health care and making a lasting impact in emergency medicine. His leadership, clinical expertise, and dedication to patient care have solidified his reputation as a prominent figure in the Canadian health care landscape.
Deepak Sharma, Vice President, Strategy and Organizational Performance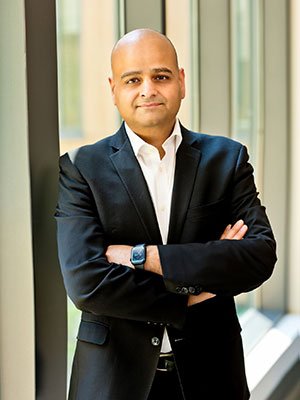 As the Vice President, Strategy and Organizational Performance, Deepak Sharma's leadership and proficiency, critical and real-time decisions inform reports and analysis created by the Organizational Performance team. Deepak is a thoughtful and collaborative leader, forging great relationships at Osler as well as externally among health system and community partners.
Deepak has been with Osler since 2019 in progressively senior roles, most recently as Associate Vice President, Organizational Performance. He has extensive experience and intelligence in performance analytics, integrated system planning, strategic thinking, and skilled interpretation of provincial funding and policy priorities. In his capacity, he has also represented Osler on several external committees to provide guidance and advocacy on how to improve the health care system.
Prior to joining Osler, Deepak was at North York General Hospital as Interim Vice President, Strategy, Integration and Health Information, and as Director, Business Intelligence, Health Information Management and Patient Flow.
David Stankiewicz, Vice President, Digital Health and Chief Information and Privacy Officer
As the Vice President, Digital Health and Chief Information and Privacy Officer, David Stankiewicz leads the Information Services team in advancing Osler's digital and technology capabilities with the goal of enhancing patient and provider experience, treatment and outcomes.
David is a seasoned leader and has 24 years of health care technology experience. He came to Osler by way of Trillium Health Partners (THP) where he held the position of Vice President and Chief Information and Privacy Officer and was the Digital Lead for the Mississauga Ontario Health Team. Prior to that, David served in a variety of technology leadership roles at the University Health Network including the Director of Technology Solutions.
Throughout his career, he has collaborated on a number of provincial initiatives including ConnectingOntario, Ontario's critical care information system, and GTA West diagnostic imaging repository platforms. David played an integral role in the acquisition and implementation of THP's hospital information system and led the modernization of the hospitals diagnostic and cardiac digital imaging platforms.
David received his Bachelor degree from the University of Western Ontario and completed the health care leadership program at the University of Toronto's Rotman School of Management.