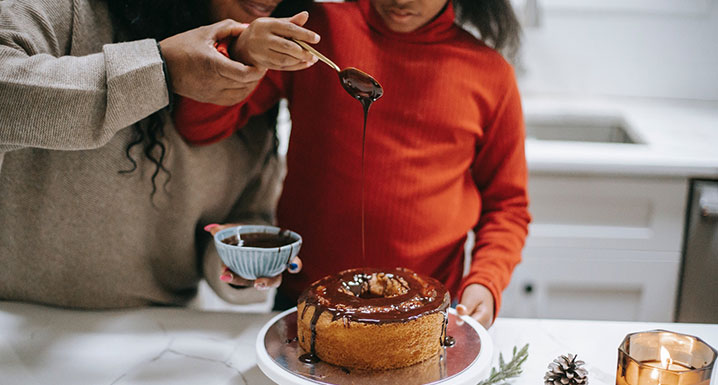 The holidays are going to be different this year. As outlined by Public Health, it is recommended that holiday celebrations be limited to your household only. If you live alone, you may join another household if you wish. Though this usually festive season will look different, it can still be fun for the whole family!
We spoke to Elaine Skene, Child Life Specialist, about how to prepare your kids for the holidays and adapt the usual traditions into something new and exciting.
Prepare children for what to expect
Every holiday season, your children may already have an idea in their minds of what to expect. The typical traditions have to be different this year, and it's important to let your kids know that.
Consider holding a family meeting to sit them down in advance and let them know why. Invite them to talk about how they're feeling and listen empathetically – it's okay to feel sad, disappointed, or angry.
Focus on what you can do and give your children choices
When discussing traditions, involve your kids in the decisions. Remember to only offer choices that are safe and possible. Practicing gratitude (being grateful for what we have) can help us stay positive and be thankful for the opportunities we do have to celebrate.
Have an open discussion about which traditions need to be a bit different this year and which new ones you want to start. Their ownership over what you decide to do will make them even more excited.
Some ideas that are guaranteed to be a hit:
Create handmade cards and send them by mail
Consider sending gifts or gift cards that support your favourite local businesses.
Make holiday themed treats with your household like festive cookies or purchase a gingerbread house kit to decorate together
Host a virtual movie watching party or games night online
Create a make your own hot chocolate bar with fun toppings
Decorate your space
This year we have been at home more than ever before. Create a change of scenery within your own home by decorating your space to brighten your spirits. Seasonal decorations can bring a welcome dose of holiday cheer.
This doesn't have to be expensive! There are lots of do-it-yourself (DIY) ideas online and crafts which can help keep the kids busy. Don't forget the holiday music!
Gently adapt holiday traditions
Some holiday traditions are not possible or practical this year. However, there are ways to adapt these traditions to uphold the value they bring to your household. Consider taking things virtual this year as a way to stay connected.
Some ideas:
If a loved one usually cooks a big family dinner, but can't be with you this year, maybe it's your turn! Your household can take on the challenge with your loved one on video chat to help out!
If you can't be with your extended family for a holiday party or dinner, bring it online! Give it a theme to make it more fun like festive pajamas or ugly holiday sweaters.
Enjoy outdoor activities with your own household, like building a snowman or going for a walk to look at neighbourhood decorations and lights.
Give yourself a break
This year has been challenging and the holiday season can be overwhelming at times. Don't feel pressured to do it all or overspend on gifts to cheer kids up. It's not about the presents or how many hours you spend in the kitchen; it's about connection.
Instead of cooking an entire turkey, try a turkey breast, or even ordering from a local restaurant for dinner. And to take a different kind of break, try putting your phone away. Being present and spending quality face to face time with your children can be the greatest gift of all.
If you or your loved ones need medical care during the holidays, please know we are here for you. Please visit our holiday health care tips page to learn more about your health care options over the holidays.