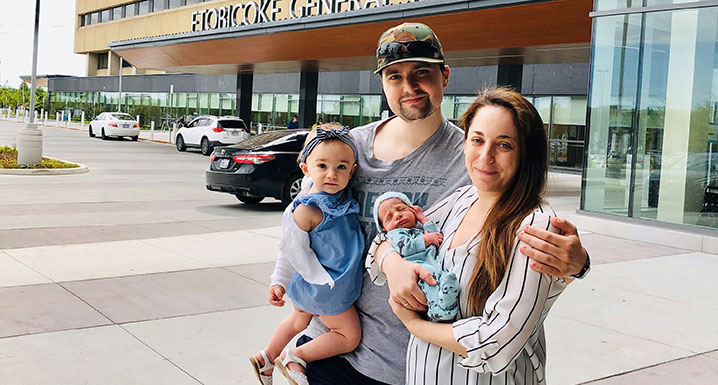 Ana Belen Rubio Vargas's daughter, Sofia, was born on June 3, 2019. Then, exactly one year and nine days later, her son, Oxel, arrived. Although both babies were born at Etobicoke General Hospital just over a year apart, delivering during a pandemic made her son's delivery a very different experience.
A few months after Ana and her husband found out they were pregnant with Oxel, the World Health Organization (WHO) declared a pandemic and, suddenly, things felt much less familiar for the pair.
"I had to go to an appointment every week with Oxel because it was a high-risk pregnancy. It felt very different going to appointments with a mask on, physical distancing and not being able to bring a visitor. I wasn't able to bring Sofia at times, which made things difficult."
However, Ana said she always felt safe at Etobicoke General. One thing that especially brought her comfort were the staff. Having given birth just a year before, many of the staff remembered Ana by name and always took great care of her.
Ana had an unexpected emergency C-section with Oxel and her husband didn't have enough time to make it to the delivery room. "I was really comforted by the doctors and nurses. You're scared in the moment, but you have people helping you and telling you what is happening. I'm really happy with the people that were around me at the time."
She experienced that same level of compassion and quality care a year earlier when, at just four weeks old, Sofia was admitted to the Neonatal Intensive Care Unit (NICU) in the new patient tower at Etobicoke General. Sofia, in fact, was the very first baby to be cared for in the brand new, state-of-the-art NICU.
She said being in such a "beautiful" space definitely made a stressful situation a little easier. "It's private, spacious and I felt so good being there. I liked it a lot and I felt so comfortable," she said.
Today, Ana and her husband, also named Oxel, are staying home and coping well raising two babies in the midst of an ongoing pandemic. "Although both of my pregnancies and deliveries were so different, I'm so happy and thankful that we were taken care of each time," said Ana.