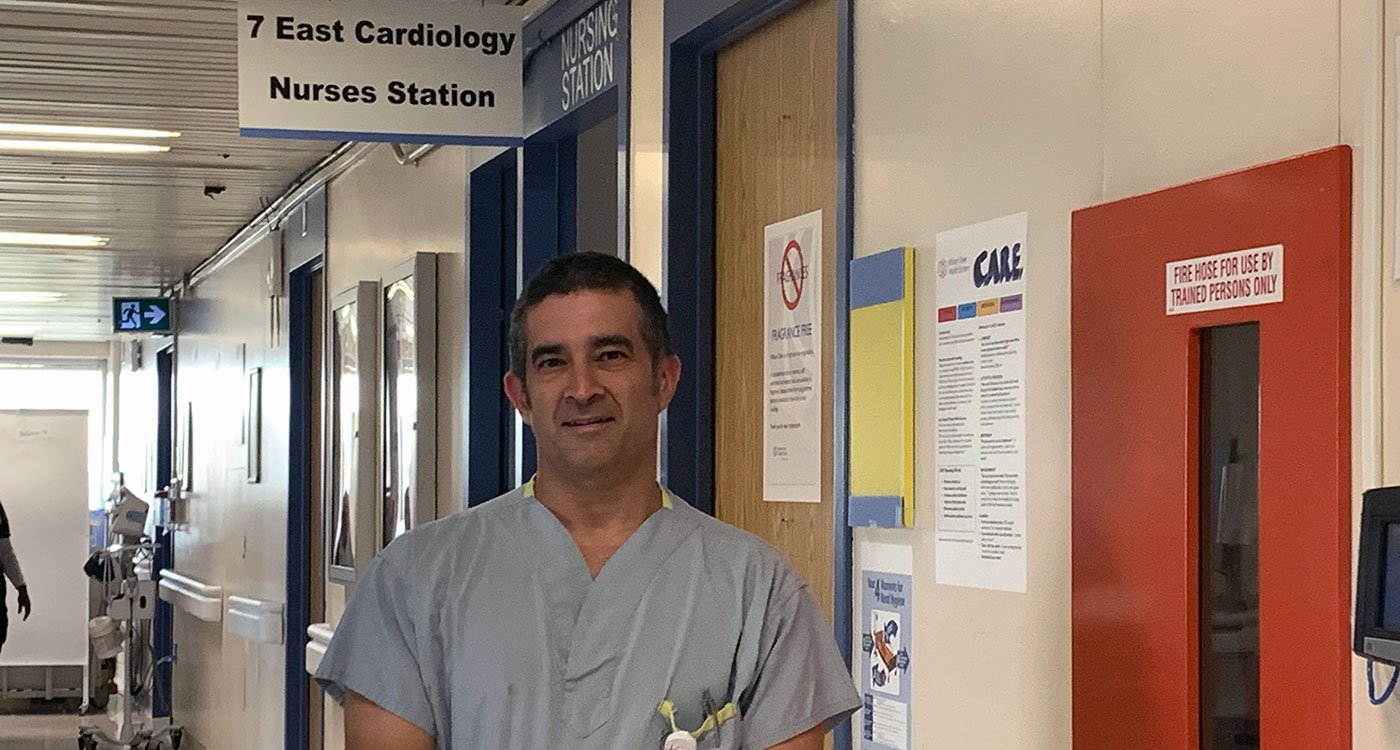 Imagine a career where your passion for health care meets a team that feels like family. Meet Alexandre De Campos a registered nurse, who has been with Osler's Cardiology Unit since 2009.
A decade of dedication
For over a decade, Alexandre has dedicated himself to the cardiovascular and stroke program at Osler, becoming an integral part of the team at Etobicoke General Hospital. Through the years, he's seen Osler's commitment to growth, experiencing incredible opportunities for his own professional development. Alexandre's journey at Osler began during his nursing school years, when he undertook his second-year clinical placement. He enjoyed his experience at Osler so much so that after graduating, he eagerly applied for a position at Osler. He found an opening in the Cardiology Unit and transitioned into the role, becoming an essential part of the Cardiology team at the Etobicoke General. "I've been with Osler for over a decade, and it's been a remarkable journey. We have a strong foundation, and our commitment to growth means there are endless opportunities for you to build a long-lasting, rewarding career here. I've seen it firsthand."
A remarkable team environment
What truly sets Osler apart is its incredible team. It's not just about clocking in and out; it's about a family that supports one another through thick and thin. Alexandre has experienced the power of teamwork and support in the most challenging situations. "The heart of Osler is its people. We're a tight-knit team that values collaboration above all else. When I need help, there's always a colleague ready to step in. That support is always there." Alexandre's commitment to Osler's Etobicoke General for 14 years is rooted in the profound support and camaraderie he shares with his team.
Nurturing the future of nursing
Recognizing the importance of fostering a collaborative and supportive atmosphere, Alexandre diligently shares his expertise with the upcoming generation of nurses through Osler's mentorship opportunities. For the past five to six years, Alexandre has taken on the role of mentor, guiding students and new hires. To date, he has mentored over eight students. It's a role that's close to his heart and a reflection of Osler's culture of growth and nurturing. Alexandre's dedication and support for his team and mentees were brilliantly evident when he received the Preceptor of the Year Award in May 2023. This award honours preceptors who have demonstrated a commitment to excellence in the clinical education of students as a mentor. "I've had the privilege of mentoring students and new hires and it's a rewarding experience, and a part of our culture here at Osler. You won't just grow professionally, you'll also play a role in shaping the future of nursing."
A fulfilling journey
Every day, Alexandre experiences the joy of helping patients and finds fulfillment in being a beacon of support and care for his patients and their families. "While it's hard to pinpoint a single memorable patient story, what I love most about my role is the opportunity to help patients in their time of need. Assisting with daily activities, providing comfort, and guiding them through their healthcare journey is incredibly fulfilling."
Careers that go beyond
Having been with Osler for an impressive 14 years, Alexandre can attest to its unwavering commitment to fostering professional development.
"My advice to those in this profession is to always stay open to learning opportunities. At Osler, there's a strong emphasis on the ongoing development of staff, actively encouraging us to pursue further training and professional development. They'll provide financial support and guide you through the steps to ensure you excel in your nursing career."
Are you ready to join Alexandre?
Come join our diverse team of Osler Strong professionals! We're dedicated to fostering an inclusive environment, providing the best-in-class care and opportunities for education and advancement in various specialties.
Apply today to exciting roles in our cardiovascular and stroke program at Brampton Civic, Etobicoke General and Peel Memorial.