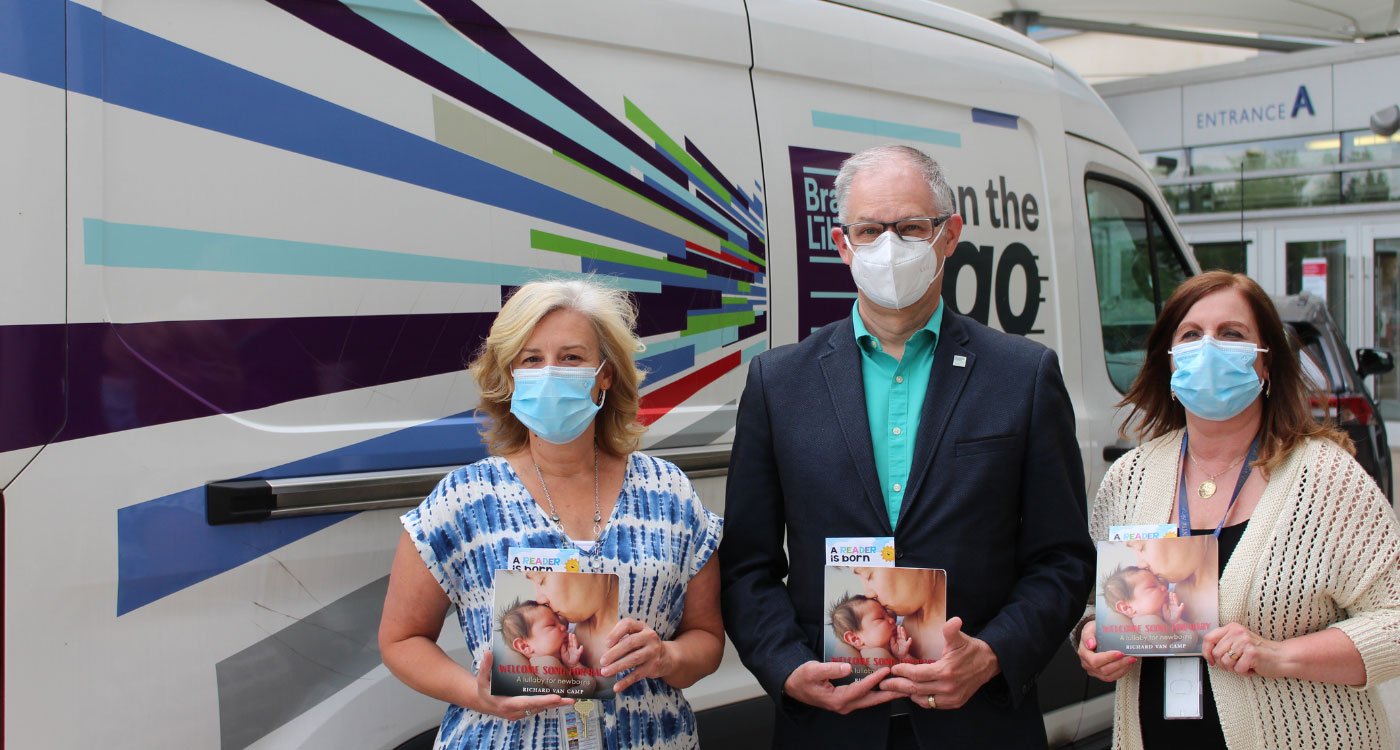 Brampton Library and William Osler Health System (Osler) have once again teamed up to spread the joy of reading to babies born at Brampton Civic Hospital and their families.
As part of the innovative A Reader is Born campaign, this year's chosen book is Welcome Song by Richard Van Camp and is gifted to every new baby born in Brampton. "A love of reading and a lifelong relationship with the public library begins at birth," said Todd Kyle, Brampton Library's Chief Executive Officer. "We are delighted to share this book of 'stunning photographs and evocative text' by renowned First Nations storyteller Richard Van Camp, which has been widely recognized as a perfect first book for every baby. Van Camp is a proud member of the Tlicho Dene Nation from Fort Smith, Northwest Territories, and the author of over 20 books in many genres. Brampton Library is thrilled to work in partnership with Osler to deliver Welcome Song to families who have their babies at our local hospital. With each book received, parents will also find out how they can get a free library card for every member of the family."
Reading teaches babies essential communication, builds listening skills, and introduces new concepts such as sounds and colours. Brampton Library offers free weekly Family Storytime programs in all of its branches, as well as thousands of titles to borrow and enjoy at home.
"Osler is one of the first hospital systems in Ontario to team up with their public library to introduce books into the lives of newborns and their families through our A Reader is Born program," said Janice Thompson, Team Lead, Health Services Library, William Osler Health System. "As a former public librarian, I know how important it is to have a joy of reading from an early age. This is a great example of community collaboration and innovation."
Osler's Brampton Civic Hospital has one of the largest labour and delivery programs in Ontario and last year alone, 4,832 babies were delivered at the hospital. "The A Reader is Born program is great for our newborns and their families – it helps parents of newborns access the library so they can start reading to their baby right after birth," said Lisa Henry, Clinical Services Manager, Post Partum, Brampton Civic Hospital, William Osler Health System. "The team on Osler's Post Partum unit is here for the baby's first few days, and is happy to participate in a program that promotes greater access to reading and literacy in our community."