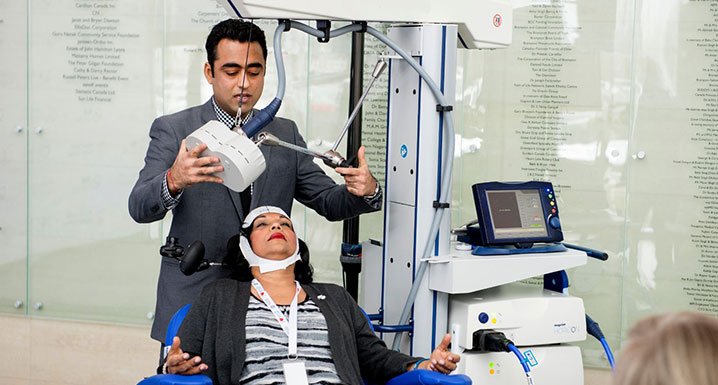 For Brampton resident, Manjeet Kaur, it was an article in a local newspaper about a new treatment for mood and depression disorders that changed the trajectory of her mental health journey. Diagnosed with major depression in 2003, Manjeet had seen multiple doctors and had tried various medications. Unfortunately in her case, her condition did not improve significantly and her medications often resulted in adverse side effects.
Last year, Manjeet's sister-in-law shared an article with her about William Osler Health System's (Osler) repetitive Transcranial Magnetic Stimulation (rTMS) Clinic – a state-of-the-art clinic made possible through a generous donation from Bell Let's Talk and a matched donation from Osler Mental Health and Addictions Unit physicians.
rTMS is an innovative treatment for people with major depression and post-traumatic stress disorder (PTSD) for whom medication may not be effective or an option. The safe, non-invasive treatments use a magnetic field to stimulate nerve cells in the brain that are involved in controlling emotions. With repeated treatments, the magnetic pulses impact how the brain is working, to ease depression symptoms and improve mood, with little or no discomfort.
Manjeet was familiar with rTMS before reading the article in the newspaper and thought it may hold promise for her. However, prior to Osler's clinic opening, the only hospitals administering this type of treatment were in Toronto – an almost two hour commute for her, since she was unable to drive due to her depression.
After Osler's rTMS Clinic opened at Brampton Civic Hospital, Manjeet was referred there to begin treatment and after only five weeks, Manjeet's husband began to see significant improvements in her mental health.
"Her hands stopped shaking and the side-effects of her medication were decreasing. She also become a bit more independent," says Sukvinder Singh, Manjeet's husband. "Now Manjeet is able to drive again and do other daily activities she couldn't before."
I'm so happy with the treatment," adds Manjeet.
The feeling is mutual for Iva Mason, who was the second person to receive the rTMS treatment at Osler. Iva's mental health journey started 30 years ago when she was diagnosed with bipolar disorder, and she has been battling depression in recent years.
"I was over the moon when I heard rTMS was available at Brampton Civic," said Iva, who has completed her rTMS treatment and has seen noticeable improvements in her mental health.
"When you're down and really deep in depression, it's hard to find any joy," said Iva, who credits the treatment with the return of her sense of humour. "People don't realize that for anybody suffering from mental illness, it can be so difficult just getting out of bed, let alone getting the help you need. So having access to this type of treatment in your community is so important."
"Not only is rTMS a very effective treatment for patients who have moderate to severe depression and mood disorders, it also has very few side effects and can be administered in very short bursts, which make it a very convenient form of treatment," said Dr. Prakash Babani, Adult and Geriatric Psychiatrist, Mental Health and Addictions. "Our team is pleased to see the impact of this leading-edge treatment on patients and we are glad to be able to offer it right here – closer to home for so many."