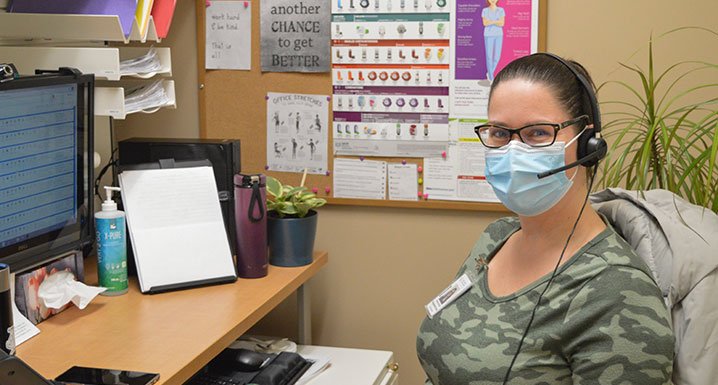 For years, William Osler Health System's (Osler) Telehomecare team has been helping patients learn how to successfully manage their chronic conditions at home through the Remote Monitoring Program.
Traditionally the Program focused on Chronic Obstructive Pulmonary Disease (COPD) or Congestive Heart Failure (CHF) patients, but during the COVID-19 pandemic, the Telehomecare team expanded the Program to COVID-19 patients. This unique program was envisioned by Osler respirologist Dr. Vikram Commondore and Dr. Yuri Moltyaner, respirologist and Interim Medical Director, Critical Care at Osler. Through this program, patients who have been discharged after hospitalization with COVID-19 are remotely monitored and provided with virtual care.
Telehomecare nurses monitor COVID-19 outpatients for approximately two weeks after hospital discharge. Patients are provided with an oximeter to read their blood oxygen levels and use an app to share information about their symptoms with the Telehomecare nurses daily. When needed, the on-call respirologist provides medical guidance when a patient's symptoms change.
"This program is like a safety net as doctors are able to discharge patients and keep a close eye on them while they recover at home," said Jane Gildner, Clinical Services Manager, Telehomecare, Osler. "We piloted the program through the summer of 2020 in anticipation of a COVID-19 second wave. By the time the second wave started we had fully tested out the process and we were ready."
For local Brampton resident David Kwan, the Telehomecare team offered the support he needed during his recovery at home.
"For two weeks, they monitored my daily readings and charted my progress to better health," said David. "It was nice to know that even though I was at home recovering, there were nurses and an entire medical team watching out for me and monitoring my health progress."
The Telehomecare team currently monitors an average of 30 COVID-19 patients daily.
"We've been able to catch matters that could have been of concern and, as a result, we were able to get the appropriate medical guidance for our patients," said Chelsea Burnell, nurse, Telehomecare, Osler. "With the COVID-19 Remote Monitoring Program, we're really helping to bridge the patient from hospital to home and in doing that, are safely helping to keep hospital beds open for patients who need them."
The Remote Monitoring Program created by the Ontario Telemedicine Network (OTN) and hosted by Osler's Telehomecare team, has helped to dramatically reduce the readmission of patients back into the hospital.
To learn more about Telehomecare, please visit the Ontario Telemedicine Network's website.