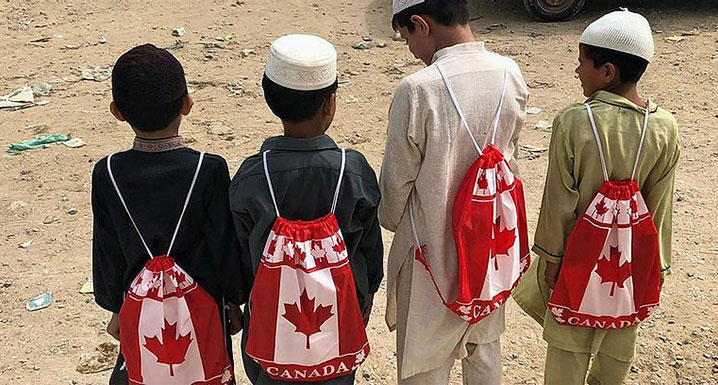 This month, William Osler Health System (Osler) would have sent its eighth delegation of staff and physicians to visit, share with, and learn from hospitals in India and Pakistan through the Sun Life Osler Global Health Program. While at this time we're not able to travel due to the COVID-19 pandemic, today I'm reflecting on what our program has taught us so far and sharing three key takeaways from our experiences.
Osler's participation in this program has actively advanced three goals: to learn, so we can continue to improve the care we provide; to offer our staff meaningful professional development and leadership opportunities; and to build collaborative, innovative partnerships that benefit patients locally and around the globe.
I am truly grateful for Sun Life's generous contributions and our teams' own fundraising, both of which have made this program a reality. Through their efforts, the impact of the program has truly made a difference both at home and abroad.
Lessons are everywhere
I was fortunate to be part of Osler's first delegation to India in 2013 and can say without reservation that it changed me as a clinician, a leader and, frankly, as a human being. While I was honoured to share the aspects of patient care we do well, I was also humbled to learn a great deal from our international colleagues.
I'm not the only one. Year after year, participants have described their journey as transformative. They have found a greater connection to their purpose and values as health care providers, expanded their cultural awareness, and gained a deeper understanding of the needs of at-risk populations. These lessons have an entirely practical application here at home, as we serve the needs of a diverse community with multifaceted and often complex health care needs. In fact, our learnings can be applied to many of our high-risk and marginalized populations who endure barriers and inequities – including discrimination and bias – in health care. This includes the Black community, people of colour, Indigenous populations, newcomers to Canada and individuals impacted by inequities and barriers related to income, religion, housing, language, literacy, disability, gender, sexual orientation and/or preference, and others.
When we were abroad, we were particularly aware of both our commonalities and our differences. During our missions to India and Pakistan, we were especially struck by the integration of families into a loved one's hospital experience. While we have always appreciated the importance of family during a patient's hospital stay, we returned home determined to strengthen this connection even further. During COVID, this has meant leveraging technology to help connect people with their loved ones remotely – but going forward, we will continue to explore how we support families and adapt our own practices based on our learnings.
In sharing, we grow
It is both a privilege and a responsibility to share our clinical expertise to help improve care for people locally and around the world. Through the Sun Life Osler Global Health Program, our teams have collaborated with staff, physicians and residents abroad to advance practices as diverse as emergency medicine, paediatric care, and mental health and addictions services. In partnership with their host country, each Osler team has co-designed and co-hosted medical camps, diabetes education and screening, and public health services, among other annual initiatives.
Our teams have also been honoured to share their non-clinical expertise. When our colleagues in Pakistan asked us to help them prepare for accreditation, we conducted mock exercises and offered the lessons we've learned from our own accreditation journey. Our outside perspective gave them greater insight into their strengths and gaps as an organization, but the exercise was equally valuable to us at Osler.
Simply put, this program is one of many ways we fulfill a commitment to our own staff's personal and professional development. When our staff return home, they do so with a list of leadership opportunities to pursue, presentations to give, information to share, working groups to form and research projects to initiate. Tracking these efforts enables us to extend our impact beyond the missions themselves.
We rise together
Our experiences abroad have shaped us in countless ways, and we remain steadfast in our commitment to this work. A diabetes research project co-designed with our partners in Pakistan promises to have implications for service delivery in both our countries. It's bound to be particularly impactful when combined with what we learned last year, when we partnered with our Indian colleagues to provide diabetes education, training and clinical consultations to hundreds of health care providers, staff, students, patients and families. In sharing our knowledge and leveraging all these experiences together, we rise together.
In addition to our partnership with Sun Life, this year we are also working with Haiti, a new global health partner, from here at home. While the pandemic has prevented us from travelling, our staff is using technology to support our Haitian partners in preventing COVID-19 transmission. It's critical work anywhere in the world, but in Haiti, even a small outbreak would further devastate the country's already overburdened health care infrastructure.
On a corporate level, we recognize that these programs and partnerships align with our Strategic Plan, supports our vision of 'Patient-Inspired Health Care Without Boundaries', and helps us deliver on our promise to 'Go Beyond' for our patients and their families. The Global Health Program's initiatives are close to my heart, and have brought many global best practices a little closer to home for our community.