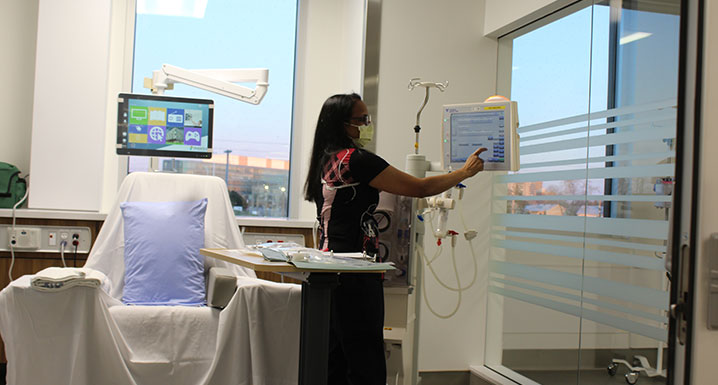 The transformation continues at Etobicoke General Hospital! On April 6, Osler opened the doors of its Etobicoke Renal Centre (ERC), a new 30-station satellite dialysis unit. The Centre provides outpatient hemodialysis, peritoneal dialysis, home hemodialysis services, and offers a predialysis clinic to renal patients.
Located on the third floor of the Etobicoke Wellness Centre on the Etobicoke General Hospital site, the ERC brings lifesaving care closer to home for local patients. The ERC is staffed by the same team of kidney specialists as at Brampton Civic Hospital and Peel Memorial Centre for Integrated Health and Wellness.
"For years we have been providing dialysis to a number of patients who live in the Etobicoke area at our Brampton hospitals and the opening of the new Etobicoke Renal Centre will make a huge difference by bringing this essential treatment much closer to home," says Josie Barbita, Director of Osler's Renal Program.
The focus on patient experience is evident throughout the new facility. The ERC features top-of-the-line equipment and partially-motorized dialysis chairs to make treatment as comfortable as possible. Patients will also have access to electronic books, smart TVs, and complimentary Wi-Fi during their stay.
"Many hemodialysis patients receive treatment several times a week, for about four hours at a time," says Osler Nephrologist, Dr. Davinder Wadehra. "This is vital care, but it's also time-consuming. As we strive to support our patients holistically, it was important to us that the ERC feel like a 'home away from home,' especially given how many hours each month our dialysis patients devote to their treatment."