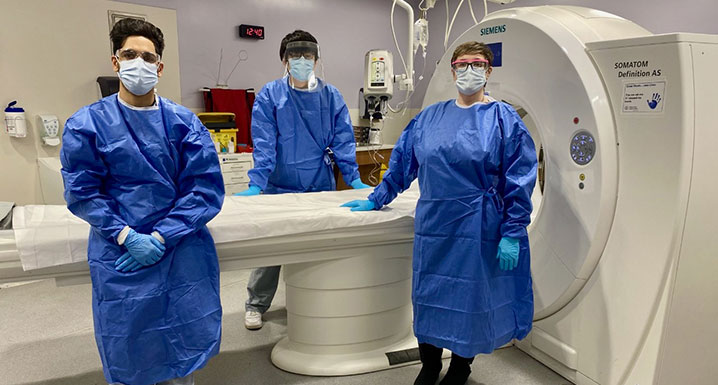 It's common to hear the COVID-19 pandemic described as "unprecedented" – and for good reason.
"We've truly never seen anything like this before," explains Dr. Aiden Moktassi, Interim Chief and Medical Director, Diagnostic Imaging. "Across the world, health care professionals and communities alike are grappling with this virus in real time. There's no playbook for how to manage through it."
While the communities served by Osler have been particularly hard hit, Osler's response to the current second wave has been greatly informed by the lessons of the first.
"COVID's many challenges have required us to think about our resources differently, to work together differently," explains Dr. Moktassi. "While we've always prided ourselves on innovation, this pandemic has taken us to a whole new level."
One such innovation came during the first wave, when Etobicoke General faced an extraordinary challenge. COVID-19 cases were on the rise and the emergency department was in extreme gridlock as patients, both with COVID symptoms and other concerns, continued to arrive from the community and local long-term care homes.
"It was a challenging time," recalls Aimee Langan, Director, Diagnostic Imagining and Laboratory Services. "During a pandemic, so many vulnerable people in the same area is far from ideal. Many people with COVID-19 symptoms were waiting for lab results, and we were running out of space to safely accommodate them."
Recognizing the inherent risks in overcrowding, the team immediately pulled together to find an unorthodox – and effective – solution. Knowing that COVID-positive patients often present with a common set of symptoms, they engaged their diagnostic imaging resources to offer low-dose CT scans.
While a CT scan can't diagnose COVID-19, the x-ray images they provide offer additional information to help physicians determine how likely it is that a patient may have the virus.
"Based on a patient's symptoms, history, and scan results, we were able to determine the likelihood that the patient had COVID-19," says Dr. Moktassi. "This allowed us to triage people more effectively and to isolate high-probability individuals from those who were less likely to be infected with the virus."
With a plan in place, the team was able to most appropriately triage patients out of the ED, freeing up desperately needed space in the process.
"This was truly an 'all hands on deck' approach," Aimee notes. "Two technologists, the Diagnostic Imaging manager, a CT supervisor and even a dedicated porter came in from home to help ensure the process went smoothly. From hospital leadership to the frontlines, everyone was working together to make this as safe, effective and seamless as possible for our patients."
Despite limited resources, extra precautions and intensive cleaning of equipment between patients, technologists scanned patients and provided imaging results to attending physicians in record time. It was an achievement that made technologist Tyemuz Ahmadi particularly proud.
"As a diagnostic imaging professional, it felt great to contribute to my profession," he says. "Through this pandemic, my colleagues and I have learned so much. We've certainly learned about COVID-19, but we've also learned what's possible when we pull together as a diverse team with a common goal. And we're now better prepared, should we be called on to use our skills in this way again."
As a result of these early learnings, he says, Osler is uniquely prepared to respond to the current second wave. But most importantly, he says, the team never lost its sense of humanity.
"Despite the challenges, the unknowns, and the overwhelming volume of patients, I saw my colleagues hold the hands of frightened elderly patients who arrived without their families," he says. "We all knew why we were doing this, and we never forgot what truly mattered."