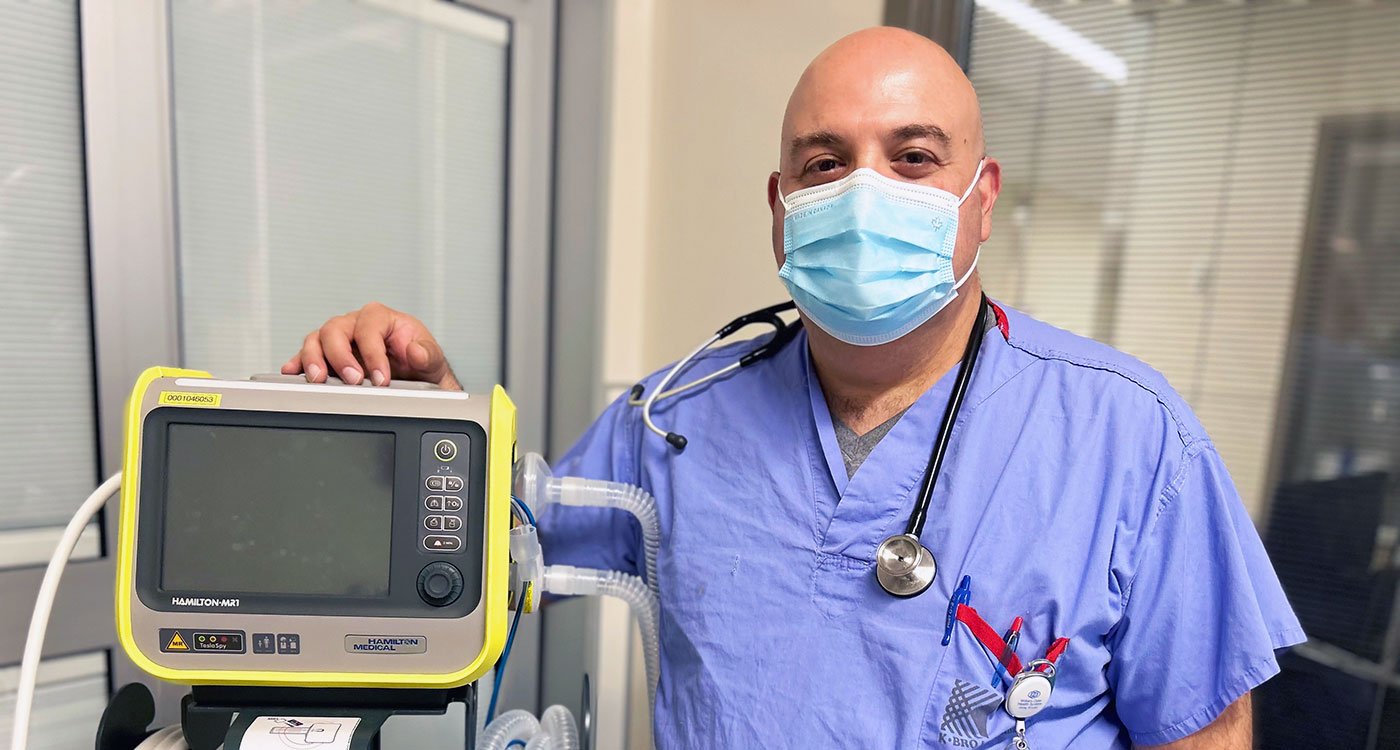 For the last 20 years, Dom has worked as a registered Respiratory Therapist (RT) at Etobicoke General Hospital. He is the team lead of the RT program across the site and is a core member of the Critical Care Unit, caring for some of the hospital's sickest patients.
Dom cares for patients at all stages of life, from newborns to end of life care and all of the populations in between. "Our goal, first and foremost, is to establish airways and ensure the patient is breathing. If you can't breathe, we're there to help you no matter the reason for the issue. It could be pneumonia, it could be cardiac or kidney issues, or even a neurological issue. There are so many things that affect the respiratory system, and as RTs we are often the common thread that weaves these cases together."
Finding the perfect match
Dom always knew he wanted to work in health care, but his path to becoming an RT wasn't clear until he attended a career fair. "Following my undergraduate degree in the sciences, I explored my options by attending a post-secondary open house. The respiratory therapy program really spoke to me and ticked off many boxes on my wish list, so I took the plunge and I've never looked back. I enjoy the challenge of marrying the physiology and pathophysiology with the technology of our equipment."
A lifelong learner
Although he's been an RT for many years, Dom says his learning and curiosity never stops. "The great thing about Osler is that they offer many opportunities to advance your clinical skills. We're financially supported to obtain certifications that further our practice like advanced cardiac life support, neonatal resuscitation and pediatric advanced life support. These opportunities for upskilling ensure that we are prepared to deal with any and all patients that need our care. The RT team is also lucky to have its own clinical educator that facilitates learning opportunities, workshops and patient simulations. Our manager, Robyn, is very supportive of the team's professional development, and wants to see us grow."
Dynamic teamwork
For Dom, working with a diverse group of medical professionals each day is one of the best parts of his job. "RTs work as a part of a multidisciplinary team that includes nurses, physician intensivists, pharmacists, social workers, dietitians, physiotherapists, physiotherapy assistants, speech language pathologists, personal support workers and clerks. We all have our own unique roles and work collaboratively for our patients. Of course, depending on what each patient needs, the multidisciplinary team will adapt, which keeps things engaging. I love how dynamic the teamwork is. It allows me to meet people all over the hospital and benefit from each team member's unique expertise."
Careers that go beyond
Osler's exciting and dynamic environment is what has kept Dom engaged for over two decades. "We're one of the biggest community hospital systems in the country, and that provides incredible exposure and potential for career growth. Something unique about Etobicoke General is that we are a designated first responder for Toronto Pearson Airport, which means that medical emergencies that occur on inbound flights or at the airport are brought to us. I've had the opportunity to handle some very interesting cases through that partnership. I can honestly say I go home at the end of every shift feeling like I've accomplished something. That sense of fulfilment is a huge driving force for me."
Are you ready to join Dom?
Come join our diverse team of Osler Strong professionals! We're dedicated to fostering an inclusive environment, providing best-in-class care and opportunities for education and advancement in various specialties.
Apply today to join our Critical Care and Respiratory Therapy teams, providing vital support across our Brampton Civic, Etobicoke General and Peel Memorial sites.