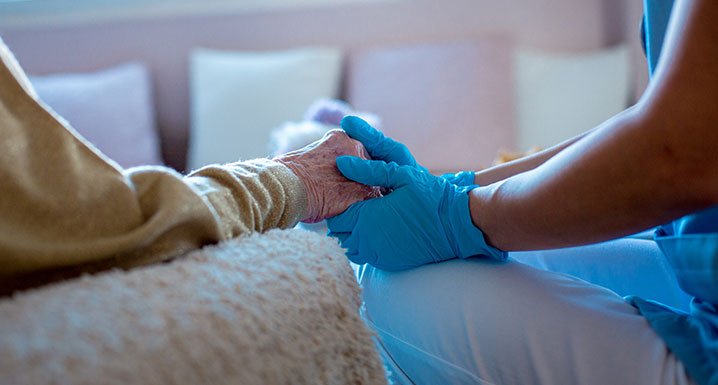 Since the start of 2021, Christine Billanti, Infection Prevention and Control (IPAC) Hub Consultant, has been visiting some of the places in our region hardest hit by COVID-19 to offer a helping hand. As a member of Osler's Long-Term Care and Congregate Setting Support Team, Christine provides support and education to help reduce the spread of viruses and infections in these settings.
The Long-Term Care and Congregate Setting Support Team is one of 25 across Ontario linked to a local hospital and Public Health Unit, and consists of teams that specialize in areas of care and work collaboratively together:
Mobile Enhancement Support Team (MEST) – provides a proactive response to keep residents and staff safe, mitigates the spread of COVID-19, and supports efforts in congregate settings/homes in crisis.
Infection Prevention & Control (IPAC) Hub – provides advice, guidance and direct support on IPAC protocols and best practices.
Nurse Practitioner Led Outreach Team (NLOT) – this outreach team existed before COVID-19 but switched their focus during the first wave to support medical management in Long-Term Care homes. The NLOT focuses on early intervention and treatment of residents, onsite COVID-19 clinical management and palliative care treatment, and outbreak expertise.
The team supports the region's 23 Long-Term Care Homes, 20 retirement homes and over 80 other congregate settings (group homes, supportive housing, and shelters). These hands-on supports are vital to protect seniors, the most vulnerable and those at highest risk, from COVID-19 and serious illness.
As a consultant, Christine goes into long-term care and retirement or special needs homes that have had a COVID-19 outbreak, or are recovering from one, at the direction of local the Public Health Unit. The team serves homes in Peel Region, York Region, Toronto and Wellington-Dufferin-Guelph aiming to contain the spread of COVID-19 and maintain quality care for seniors and residents.
"Our approach is very collaborative and I make sure to start each visit to the facility by thanking all of the care workers for everything they're doing," says Billanti. "We do an assessment and see where a home needs some help. We're all exhausted from COVID-19, but everyone knows what they need to do. Using positive reinforcement and armed with information and skills, the team promotes best practices to help prevent future outbreaks."
The training and support given will depend on the outcome of the assessments. This can include staff education on hand hygiene, putting on and taking off Personal Protective Equipment (PPE), and how to properly use disinfecting wipes. All this can be done in short bursts with multiple members of the care team."
The invaluable work done by the MEST, IPAC and NLOT teams has honed skills and knowledge that can be transferred to other areas of the healthcare system. "We don't know when the next outbreak or pandemic will happen, "says Billanti. "Wearing PPE properly and using proper cleaning techniques are the same for a lot of different viruses, so this training and work won't end when COVID-19 ends."
By reinforcing this knowledge through a supportive environment, the benefits to staff and residents goes beyond the initial visit. Limiting COVID-19 exposures and outbreaks ensure the most vulnerable are protected and can be the difference between life and death.