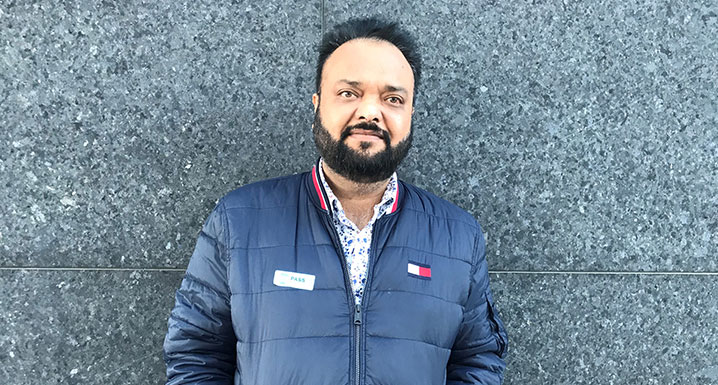 To say it's been a busy year for health care is a massive understatement. But in addition to fighting COVID-19, the team at William Osler Health System (Osler) continues to deliver other critical health care services for the community.
One such service has been Osler's Etobicoke Renal Care Centre. Opened at the height of the pandemic inside of the Etobicoke Wellness Centre at Etobicoke General Hospital, the Centre brings lifesaving treatment closer to home for residents who previously had to travel for kidney care. There, patients receive dialysis in one of 30 top-of-the-line stations, or can be trained to facilitate their own treatment at home.
"Depending on a patient's needs, we have options," explains Dr. Davinder Wadehra, Medical Director of Osler's Renal Program. "We help people at all stages of kidney disease. We have a pre-dialysis clinic to help people avoid dialysis, if possible; we have in-hospital and in-home dialysis treatment; and we help facilitate the kidney transplant process, when that's required."
To make dialysis treatments as comfortable as possible, the Centre offers partially-motorized dialysis chairs and amenities such as electronic books, smart TVs, and complimentary Wi-Fi. Since many patients spend hours each week in treatment, the goal is to help the Centre feel like a "home away from home" during their appointments.
For people like Parminder Sidhu, the care has been a game changer.
"I started dialysis in March," he recalls. "Before that, I had pain all over my body and was sleepy all the time. A couple of days into my treatment, I started to feel better."
Challenges with Parminder's eyesight made travelling for treatment difficult, and with COVID-19 cases on the rise in his community, he opted to receive treatment at home.
Dr. Wadehra understands the decision. "While our hospitals continue to be a safe place to be, it's optimal to limit your interaction with other people if possible," he says. "This program is one way we can help people do that, and in-home dialysis is an effective, less expensive option that is also more convenient for many patients."
Patients who receive dialysis at home report less anxiety about their treatment, largely due to the intensive training they receive before beginning their in-home care. This may include a nurse teaching the patient at home, or comprehensive in-hospital classes to show patients what to do.
"We spend a lot of time reassuring people," Dr. Wadehra says. "We let them know they are not going to be alone. We have a team here at the hospital and many partners who are dedicated to ensuring their success. We will be walking together through this process."
Parminder agrees. "I'm absolutely comfortable doing this," he says. "I've had no problems, and I feel so much better. If I do run into any issues, I have a personal nurse at the hospital who can answer my questions."
The need for Osler's kidney program continues to grow. Over the past year, Osler has seen the highest increase in home dialysis treatments in the province.
For Parminder, treatment has also dramatically improved his quality of life. "Sometimes my son helps me with my treatment, but I can mostly do this myself now," he says. "I feel so much better."