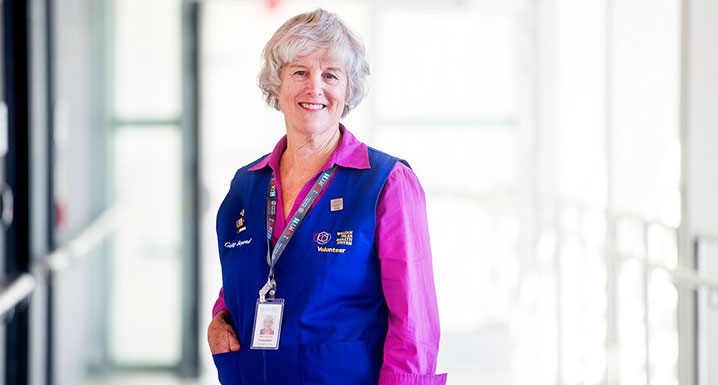 Since 1986, Marlin Morrell has been a dedicated volunteer at William Osler Health System's (Osler) Etobicoke General Hospital. With 35 years as a volunteer, she speaks as a voice of experience when she says, "get out and try it and you'll never regret it."
At the age of 75, she's a hero everyone can look up to. And now Marlin has been recognized for her dedication to her community after receiving a 2020 Urban Hero Award, Judges Selection from Star Metroland Media. The awards, now in their 11th year, recognize individuals and groups for their work, leadership and good deeds.
When asked about her award, Marlin says she was very surprised. "I read about every other nominee and I couldn't believe how lucky I was to be among them. They were all very accomplished and I thought, there's no way I could win! There are so many people doing so much good. I'm truly humbled to be a winner."
Most superheroes count the number of bad guys they catch. But instead for Marlin, there is a long list of good deeds she's performed at Osler which are truly outstanding. She has volunteered over 15,000 hours, is former President of the Volunteer Association, and has raised hundreds of thousands of dollars for Osler Foundation.
"Marlin's contributions to Osler Foundation are tremendous," says Ken Mayhew, President and CEO, William Osler Health System Foundation. "Not only has she made gifts of her funds, time and expertise, she's been a force of nature to inspire countless others—from physicians to community members—to follow her selfless and passionate lead."
However, Marlin says she doesn't feel like a superhero. "The heroes are the doctors, nurses, porters, housekeeping staff, and all the staff that make up Etobicoke General Hospital," she says "They're all heroes in every job they do, every person at that hospital is so important."
Marlin is a retired teacher and proud grandmother, inspired by her own parents to make time for her community. "My mother volunteered at our local hospital and both my parents volunteered for Meals on Wheels. When I saw a flyer calling for volunteers on my local church bulletin, I thought, I can do that!"
Her passion is felt by everyone she meets and has continued to impact her family. She inspired one of her sons to become a student volunteer at Etobicoke General, and he is now a physician who works there.
"Marlin's energy is contagious and everything she does is with all her heart," says Navreet Gill, Corporate Manager, Volunteer and Community Resources. "We're thrilled Marlin has been recognized for her dedication to volunteerism and her community. Her contribution cannot be understated."
Volunteering with a single organization for this long is truly remarkable. It's given Marlin a real sense of belonging, like she's a part of the hospital family. "I feel like every week I give back, I do something good for somebody," says Marlin. "This is my community hospital. It's where I took my kids when they were sick. Why not volunteer at your local hospital?"
The patients, staff, physicians, and volunteers at Osler are truly grateful for Marlin and her dedication to her community. Learn more about volunteering with Osler or donating to Osler Foundation.