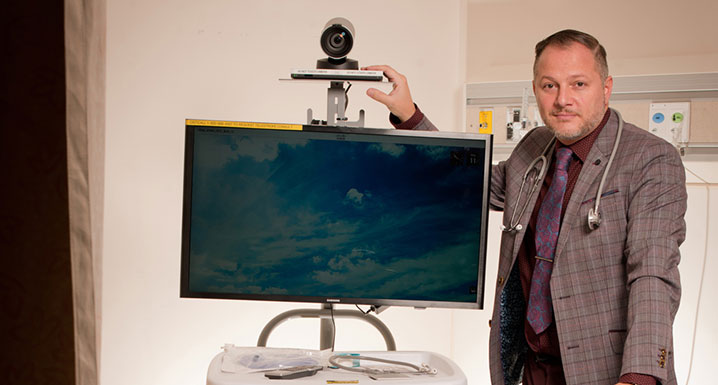 The virtual technologies that so many of us are using on our Smart phones and computers to connect with family and friends during the pandemic are also being put to good use at William Osler Health System (Osler) to deliver safe, confidential patient care to people in their homes. As a long-time champion of virtual care, and with patient safety top of mind, Osler is connecting more patients and health care professionals via phone and videoconferencing, as it expands its virtual care offerings for some outpatient clinics and services.
"Virtual care helps reduce the need for some patients to come to the hospital or visit a clinic while ensuring they can confidently continue to maintain their health at home," said Jane de Lacy, Associate Vice President, Clinical Operations. "In today's environment, we're trying to make access to health care providers easier, safer and more convenient, particularly for the most vulnerable of the patients who rely on us for care."
Patients who opt to take part in virtual care visits can expect timely access to quality health care services through the virtual tool that works best for them, whether that's by phone or via secure video call platforms such as the Ontario Telemedicine Network (OTN). Any platform Osler uses must meet Canadian standards for patient privacy and security.
While some Osler clinics and programs offer virtual care components, a patient's ability to participate in the program or individual virtual care sessions varies depending on a number of factors. These factors include a patient's individual preference to participate in virtual care, and the type of care the patient may need at a particular point in their health care journey.
"Virtual care visits are very similar to in-person visits," said Anne-Marie Graham, Director, Cardiovascular and Chronic Disease. "Through a simple phone call or video call the health care provider may discuss a patient's current health status and progress, and can answer any questions they have about their care or condition."
Osler is no stranger to virtual care having partnered with OTN on its highly successful Telehomecare program in 2012. Virtual care has also been used with great success in Osler's palliative care program at Brampton Civic Hospital, Mental Health Program, Urgent Medical Clinic, and more recently, in its Survivorship Clinic.
"I like that I can see my patients while I am talking to them, so that I can gauge their energy levels based on body language, or their mood based on facial expressions," said Dr. Rardi Van Heest, Medical Director of Cancer Care, who connects with post-cancer patients in Osler's Survivorship Clinic using video call. "I also like that a patient's circle of care can take an active part in the calls, including family members who live out-of-country, or who are currently social distancing."
Although she notes that virtual care isn't for everyone, she said most of her patients like the virtual calls. If the patient doesn't need a physical exam or diagnostic tests, a virtual face-to-face call can be reassuring for anxious patients and eliminate unnecessary travel to the hospital. "I can go through breathing exercises with them, talk about how they can live their life more fully, and can adjust what we're talking about based on the patient's needs in that moment."
With non-urgent/elective outpatient services temporarily closed due to the COVID-19 pandemic, Osler's Mental Health Clinics recently launched virtual child and adolescent, and adult group sessions.
"Because we can't bring people into the building, especially in groups, our patients now have the option of taking part in group sessions with the mental health team via video call," said Faiza Khalid-Khan, Director of Mental Health and Addictions. "It's also a great way to improve access to people who are working or where distance is an issue in terms of travel."
The team also uses one-to-one calls (via phone or OTN) and email to connect with those patients who aren't comfortable with group video conferencing.
With virtual care among the priorities outlined in Osler's 2019-24 Strategic Plan, Going Beyond for Healthier Communities, the hospital has been able to accelerate its plans given circumstances created by the recent pandemic. COVID-19 has heightened the need to implement virtual care options to stay connected with patients who are at home or who have had procedures delayed due to the temporary closure of non-essential services.
With more and more people familiarizing themselves with these technologies to connect with primary care physicians, friends and family, the transition for many patients to virtual models of care should be relatively seamless.
"From the onset of planning, our goal was to change the way our patients and community access and engage with their health care," said Dr. David Borts, Interim Chief of Staff. "The clinics and programs that we offer virtually, have played an important role in reducing the demand on our emergency departments, building capacity in the health care system, and empowering patients to actively manage their health."