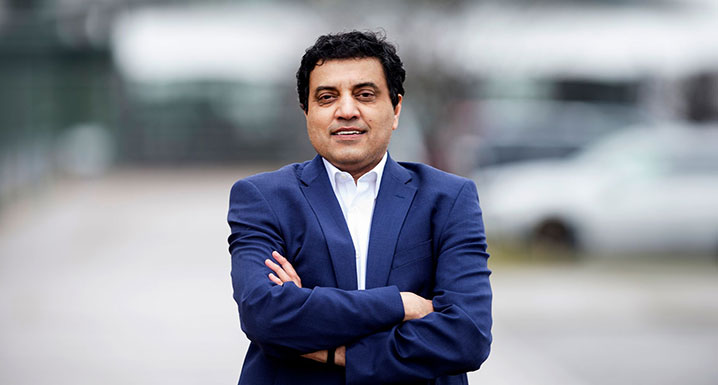 I recently completed my first 90 days as President and CEO of William Osler Health System. Transitioning into a new role always has its challenges, and doing so during a pandemic has certainly been a journey unlike any other I've experienced.
While the past three months have left little time to reflect, this milestone is an opportunity to consider all that has happened, what I've learned so far, and what lies ahead.
Here are five observations from my first 90 days:
1. The view is different from here.
While I've been at Osler for 23 years, the view from this office is very different. I now have a broader view of the organization and an even greater awareness of the need to focus on system-level collaborations and planning.
It's no surprise that our priority over the past several months has been COVID-19, and we've had to be nimble as we navigated operational and capacity issues, addressed resource needs, and deepened our community and health system partnerships. Through it all, my focus has been on working closely with our operational leads while connecting with local and provincial partners and colleagues to ensure our regional and hospital-specific priorities are met.
2. Our team has truly risen to the occasion.
I already knew that Osler's team is made up of committed and skilled people. This has only been reaffirmed as we've provided care to some of the highest COVID-19 inpatient volumes in the province – as well as conducted more COVID-19 tests than any other hospital in Ontario. I'm deeply grateful to our staff, physicians and volunteers for continually going beyond for our patients and the community.
Throughout this pandemic, our contributions to the health care system through exceptional patient care delivery and expansive COVID-19 testing have made a difference in the communities we serve, and that's a reflection of the efforts and contributions of our incredible Osler team.
3. The importance of visibility and communication cannot be overstated.
When I took the helm in April, Osler's COVID-19 response was well underway and I was already a familiar face to many of my colleagues. However, there were also many staff I had never personally encountered. Change can be difficult for many of us, and I was very aware that the introduction of a new leader coupled with the challenges of a pandemic had the potential to create anxiety.
Being a visible and engaged leader is critical, and it's a personal commitment I'm making to everyone at Osler. I'm connecting with people across our organization on a regular basis, and our entire senior leadership team has also pledged to do more of the same over the coming months.
4. Engagement and wellness is critical – for patients and for staff.
As President and CEO, my main priority is ensuring patients receive high-quality care delivered with compassion and empathy. To create the best possible patient and family experience, the well-being of staff, physicians and volunteers is essential. It's my job to engage with our teams and set a tone that helps everyone feel uplifted, informed and motivated to do their best. In the time ahead, we will focus on increasing engagement to further cultivate an organizational culture that inspires the people of Osler to be and do their best.
5. The time for innovation is now.
Even during this extraordinary time, we've continued to advance some of our strategic priorities. For example, we've expanded virtual care to over 20 programs and services, delivering more care to patients in the comfort of their homes.
To best serve our patients and community, balancing the needs of patients with COVID-19 and those with other health care needs is critical. We'll proceed on the path to building innovation capacity that is patient-inspired, and continue to collaborate and advance system transformation. We will also use the lessons we've learned in recent months to become even more innovative and responsive to the changing needs of our community, even as we prepare for a possible second wave of the virus.
My first 90 days have been eventful and inspiring, to say the least. I continue to be impressed by the resilience of our staff and physicians, the dedication of our volunteers, the authentic and meaningful partnerships we've fostered, and the care we've provided to our community during this unprecedented time. We are well on our way to creating an even stronger health system, together.