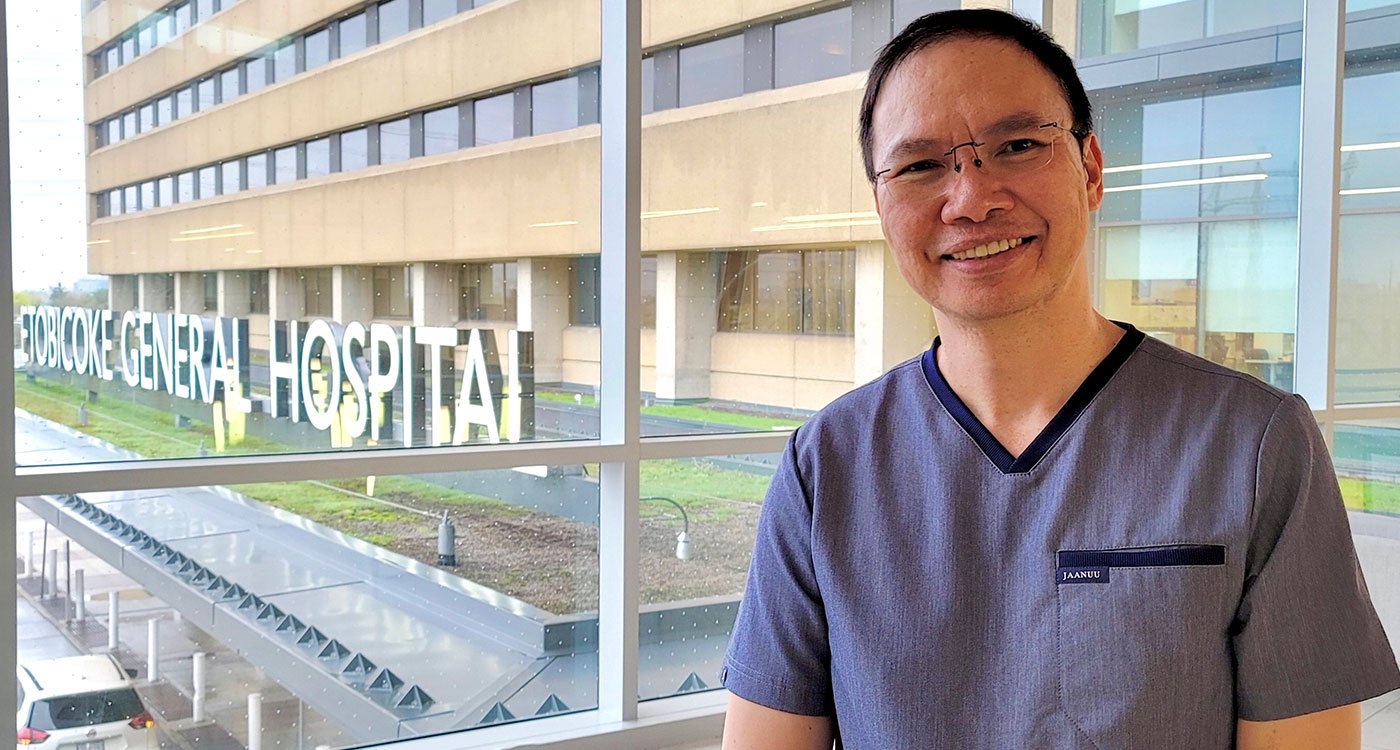 International Nurses Day is a special day to celebrate the invaluable contributions of nurses around the globe. It's a day to reflect on the dedication and hard work of health care professionals working tirelessly to improve the lives of their patients and communities. Paul Perez, an internationally educated nurse, shares his inspiring story of perseverance and determination to practice as a Registered Nurse (RN) in Canada. Paul works in the Dialysis Unit at the Etobicoke General Hospital, where he and his team provide quality care for renal patients.
Making the move
After graduating with a Bachelor of Science degree in Nursing from the Philippines and practicing as a RN for thirteen years in both the Philippines and in the United Arab Emirates (UAE), in 2015 Paul decided it was time to move to Canada!
Glad to have arrived and impressed with the Canadian health care system, Paul began the process of registering with the College of Nurses of Ontario (CNO). Given his international training, he successfully registered as a Registered Practical Nurse (RPN) but was required to complete additional courses to be registered and work as an RN in the province.
While advancing his academic and regulatory designations, Paul joined Osler as an RPN in Brampton Civic Hospital's Dialysis Unit, then moved to Etobicoke General when new Dialysis Unit was opened. "I really enjoyed my time as an RPN, but I really felt I wanted to earn back my former career. I was an RN at home, an RN in the UAE, and I wanted to be an RN in Canada as well."
At a crossroads
Over the ensuing years, Paul continued to juggle his studies with his full-time work at Etobicoke General. He devoted nearly all his free time to learning for the National Council Licensure Examination – Registered Nurses exam, and focused on providing the required evidence of nursing practice.
To complete the evidence of practice, Paul had two options: finish three remaining courses which would take a year to complete, or return to the Philippines to practice as an RN for a month. Paul opted to return to the Philippines.
A win-win situation
While planning his trip, Paul received an unexpected email from CNO stating he was eligible to participate in the Supervised Practice Experience Partnership (SPEP) program, a joint venture between CNO, Ontario Health and approved organizations. Osler is a proud participant of this program, which allows internationally educated nurses to demonstrate their evidence of nursing practice by completing 140 hours of clinical RN practice under the supervision of a practicing RN, with compensation.
Paul jumped at the chance! "The SPEP program allowed me to demonstrate my knowledge and skills as an RN and complete the outstanding requirements for my RN registration without returning to the Philippines," said Paul. "It also allowed me to earn an income while on the program and achieve my professional goal to practice again as an RN – it was a win-win."
Careers that go beyond
After working as an RPN at Etobicoke General, Paul spent another 140 hours as a preceptor in the Dialysis Unit at Brampton Civic. He has since returned to Etobicoke General and is practicing as an RN. Osler takes great pride in being a participant in the SPEP program, and Paul was thrilled when Ontario Health placed him at Osler. "I feel so grateful and fortunate to have participated in this program, and I hope my story inspires others.
Are you ready to join Paul?
Osler is proud to support and celebrate the contributions of international nurses to our health care system.
Come join our diverse team of Osler Strong professionals! We're dedicated to fostering an inclusive environment, providing best-in-class care and opportunities for education and advancement in various specialties.
Apply today! We're always hiring for new and exciting roles across our nursing programs at Brampton Civic, Etobicoke General, Peel Memorial and the Withdrawal Management Centre.
For more information about the SPEP, please visit the CNO website.