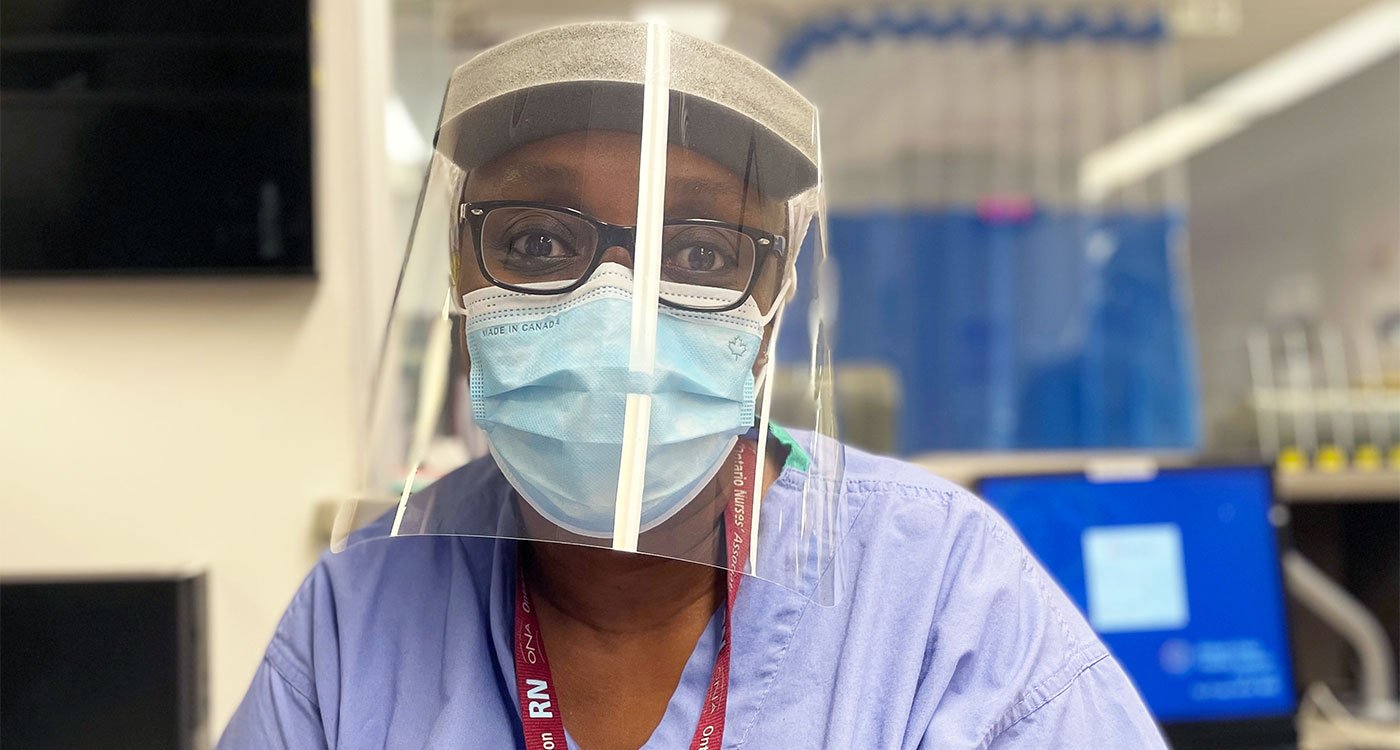 Grace is a Registered Nurse (RN) on Osler's Clinical Resource Team (CRT), working across Osler's hospital sites. Grace and her team provide vital support to staff and patients wherever it's needed most.
She first joined Osler in 2015 as a team member on the Neurology Unit before transitioning to the CRT in 2017.
Understanding the role of a CRT nurse
Grace's role as a CRT RN is unique as it truly means that no two days look the same. "The purpose of the CRT program, primarily, is to provide coverage for sick calls and vacations across the organization, meaning I go wherever I am most needed on any given day. Sometimes I move units between shifts, and other times I'll move hospital sites. I typically work between Brampton Civic Hospital and Etobicoke General Hospital depending on the clinical needs, but there are times that CRT support is required at Peel Memorial Centre and Osler's Reactivation Care Centre as well."
The start of something new
When Osler launches a new unit or program, the CRT play a critical role in its success. "Working on the start up units is really interesting because you get to help build something from the ground up. As CRT, we are often brought in to help staff those new units until a dedicated care team has been recruited. I enjoy it, because it presents opportunities to share your insights and learn from others. Once the unit's permanent team is ready to begin working, we stay on for a short transition period to help train and orient the staff to the unit before moving on to our next assignment. It's fulfilling to see new units and teams thrive, knowing you were a part of its creation."
The little things
For Grace, the most special aspect of a nurse's role is their compassion. "I love making people smile, and knowing I've had a positive impact on a patient's experience. I don't think anyone looks back at their care and says, 'that nurse was so great at changing my dressing' or 'I love how they placed that IV'. They remember the way you made them feel, and the care and respect that you showed them. It's the little things that make the difference. I want to be the kind of nurse I would want to have. It's vital that I treat people the way I would want them to treat me, or a family member."
Careers that go beyond
Grace says that joining the CRT program has helped her to become a better nurse. "Over the years I've been placed in just about every clinical area you can think of, so the opportunities to diversify not just my skillset but also my interprofessional relationships have been fantastic. Being moved around so frequently challenges me and takes me out of my comfort zone as a nurse, and has allowed me to become more adaptable. When I arrive on an unfamiliar unit, I'm quick to introduce myself to my colleagues and see how I can best work with them. Even the little things, like locating where the supplies are kept, are important when getting myself organized on a new unit. We may not all know each other, but at the end of the day we're colleagues and we're all there with a shared vision – to go beyond for our patients."
Are you ready to join Grace?
Come join our diverse team of Osler Strong professionals! We're dedicated to fostering an inclusive environment, providing best-in-class care and opportunities for education and advancement in various specialties.
Apply today to join our Clinical Resource Team, providing vital support across our Brampton Civic and Etobicoke General hospitals.