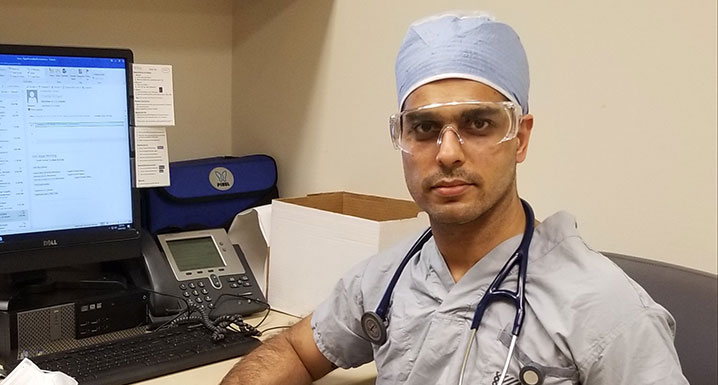 With the onset of COVID-19, among the hardest hit and most vulnerable population in our communities has been the elderly. So it was without hesitation that a group of health system partners recently mobilized to transfer 17 COVID-19 positive long-term care residents to hospital - all within a record 24 hours.
"This was humanity at its best - the ultimate definition of partnership in action," says Terri-Lynn Hansen, Director, Access and Flow, William Osler Health System, whose teams were among those involved in preparing for the arrival of the residents at Osler's Brampton Civic and Etobicoke General hospitals. "From the outset, our shared purpose was clear – to help these elderly residents safely access the care they needed as quickly as possible, while also easing pressure on a short-staffed long-term care facility to support the many others in their care."
The coordinated effort between the long-term care facility, Osler, Peel Region Paramedic Services, and one local ambulance transportation service showcased what can be accomplished when partners work together. "Without the collaboration of everyone involved, we never would have accomplished what we did in so little time," says Hansen, who emphasized that safety was their number one priority throughout the transfers.
Lindsay Hogeboom, Clinical Services Manager, Access and Flow at Osler who helped coordinate the arrival of residents at Etobicoke General Hospital, agrees it was an 'all hands on deck' approach that made the transfers a success.
"Transfers of this magnitude can take weeks to plan, so it's truly a testament to the coordination of both internal and external teams that we managed to safely transfer all these long-term care residents in such a short period of time," notes Hogeboom.
Although the long-term care home had been proactive in putting plans in place to help minimize any impact from COVID-19, once the virus got into the home, it spread rapidly, affecting both staff and residents. "When we self-identified that we could no longer manage the needs of all residents given our staffing levels due to illness, we knew transferring some of them to Osler, particularly those in end-of-life situations, was the best thing we could do for them at that time," says Kaitlan Laviolette, Nurse Practitioner at the long-term care facility, who was the point person coordinating the transfers from inside the home.
Within hours of receiving the urgent call from the local long-term care facility, the first residents began to arrive. Behind the scenes, Osler's housekeeping staff at both hospitals were cleaning and sanitizing patient rooms; physicians and nurses were learning as much as possible about the residents prior to their arrival; staff were redeployed to the receiving inpatient units to support admissions; clinical leaders, porters and security staff were mapping the safest routes for transporting the residents to the receiving units; and all staff, physicians and paramedics involved were wearing the appropriate personal protective equipment throughout to ensure everyone's safety.
Dr. Jobin Varughese, a family physician with Queen Square Family Health Team and Chief Medical Officer for the long term care facility, oversaw the primary care of residents in the facility. He noted that a lot of work was completed behind the scenes to make sure Osler had the information it needed about each resident to enable them to provide the best care. "Our nurses and personal support workers (PSWs) were phenomenal at doing the care and assessment of residents, while Kaitlan worked with partners to coordinate the transfers and I completed transfer notes, connected with hospitalists and called the families to let them know what was happening."
For Dr. Rajat Kumar, the experience is one that will remain with him for a long time. The hospitalist at Brampton Civic Hospital was the physician-on-call the evening the first residents began to arrive, and he worked well past the end of his evening shift into the wee hours of the following morning to support the admissions process.
"I felt really satisfied on my drive home that morning knowing that these elderly residents were being taken care of. Everything went smoothly because everyone stepped up to do their part – it was 100% great teamwork that made this a success."
Osler is supporting its long-term care partners in other ways as well. This includes providing them with access to virtual consultations with specialists and nurse practitioners to reduce hospital visits and admissions, particularly for frail and vulnerable residents who are extremely ill.
For the most vulnerable of long-term care homes in the community, Osler is also helping to swab residents and staff for COVID-19, providing recommendations to help inform safe infection and prevention control practices in a long-term care setting, and providing onsite staff education regarding the wearing of appropriate personal protective equipment when caring for residents who are COVID-19 positive.
"Our focus is on the residents' needs by helping to educate staff as to how they can continue to safely support everyone in their care," says Janine Domingos, Manager, Infection and Prevention Control at Osler who credits her team for providing onsite education that helps to alleviate long-term care staff concerns regarding safety and minimize risk to both residents and staff.
"I've had the privilege of working with the elderly frail population for most of my career," says Hansen. "Any one of these residents could be a member of my family – we just want to help in any way we can to support our long-term care partners through this challenging time."