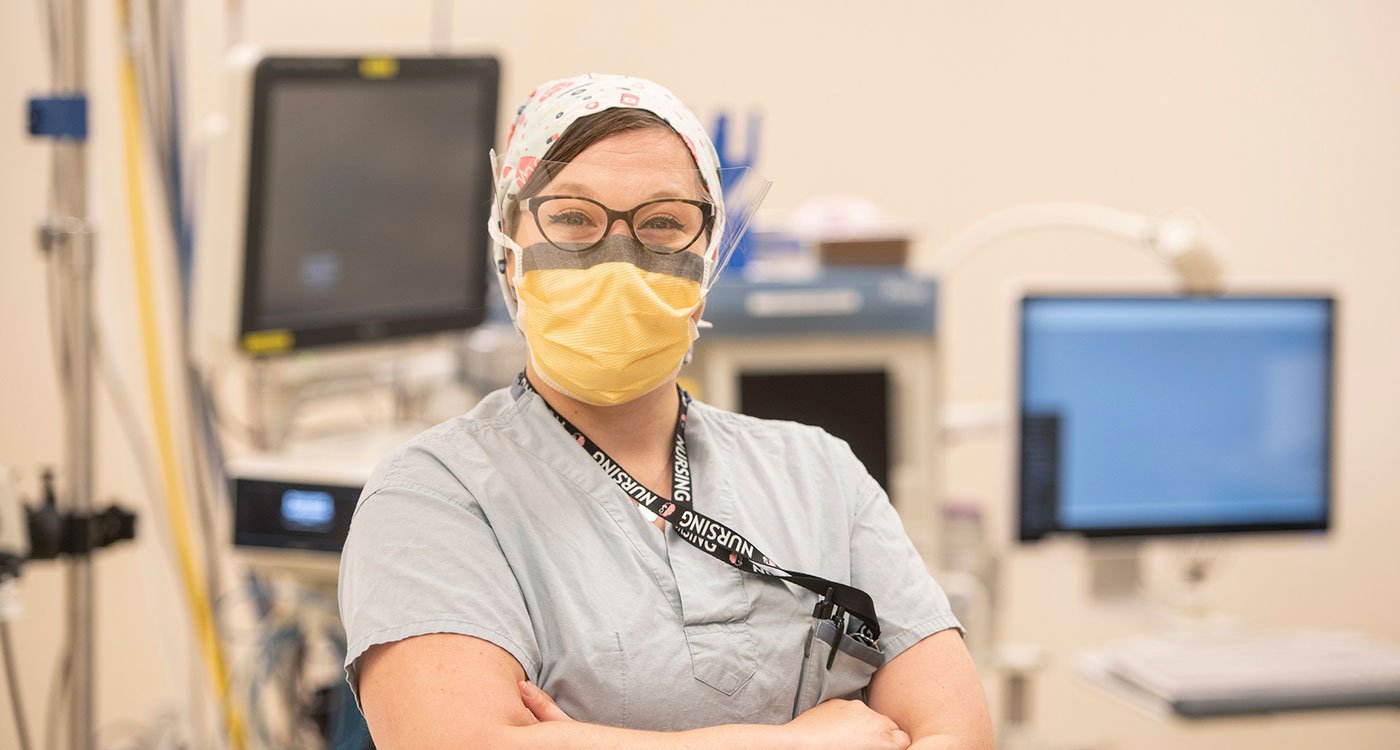 As a registered nurse (RN) in the Operating Room (OR) at Brampton Civic Hospital, Holly is used to working in a dynamic environment where no two days are the same. But with the onset of the COVID-19 pandemic, Holly and the OR team took major steps to adjust to their new normal.
What hasn't changed is the quality of care provided and the level of patient advocacy that Holly offers to her patients.
Building a connection
While scrubbing in to surgery may seem like a thrilling job, the real thrill is knowing that you've impacted someone's quality of life. "It's all about making sure our patients have a positive experience and it starts from my very first interaction with them. I try to treat our patients as if they're my own family and go out of my way to make them feel special. Sometimes, I have the doctor come in to chat with them one more time before surgery, provide them with a warm blanket or hold their hand before they go to sleep. All of the small things really add up and make them feel safe."
Small moments make lasting impressions
For Osler RNs like Holly, job satisfaction comes in the form of compassionate human interactions. "We tend to see patients when they feel quite vulnerable. They meet me for five minutes and then we put them to sleep, so we have a short period of time to get to know them and to build trust. There have been countless patient stories that have stuck with me throughout the years, but there's one particular patient that recently made a big impact on me. The patient came in for surgery and she was very nervous. I gave her reassurance that I'd be there the entire time, caring for her and advocating for her. As she was going to sleep, she gripped my hand. That simple action made me know that the work we put in before surgery to build a relationship is worth it. She trusted me and knew I was there for her."
Teamwork leads the way
Holly and her colleagues understand the crucial role that collaboration and a high morale play in the OR. "We have this groove of how we communicate with each other for the betterment of our patients. We work on building each other up and highlighting the small wins we see on a frequent basis. Pointing them out by saying things like 'you had a really good interaction with that patient' helps to build morale within the unit."
Careers that go beyond
Since joining Osler's surgical team in 2007, Holly has never looked back. "I love the Operating Room. It's been my passion for years. I love it because it's a fast paced environment with an emphasis on teamwork. I get to partner with different professions like physicians, anesthesia assistants, and nurses from diagnostic imaging and more. No day is the same."
Are you ready to join Holly?
Come join our diverse team of Osler Strong professionals! We're dedicated to fostering an inclusive environment, providing best-in-class care and opportunities for advancement in surgical specialties.
Apply today to exciting roles in the surgical program.