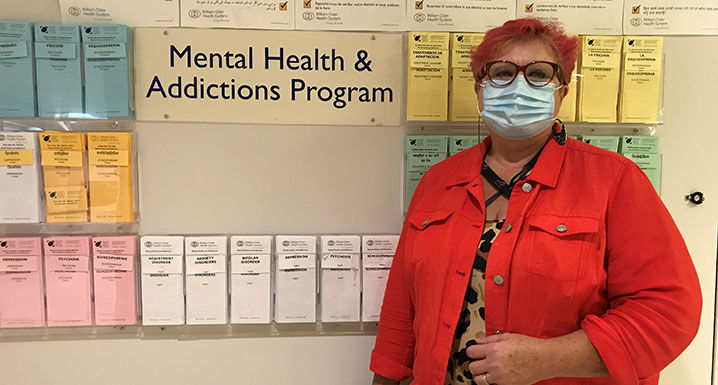 For years, "Gayle" suffered from anxiety, debilitating panic attacks and post-traumatic stress disorder (PTSD). One day, finding herself at her wits' end, she came to her local emergency department. "I was going to commit suicide," she recalls. "I knew I needed help."
Gayle was referred to William Osler Health System's (Osler) Mental Health and Addictions Outpatient Program and in April, during the height of the COVID-19 pandemic, began a combination of group and individual therapy. The program was exactly what she needed.
The program's sessions were held in person before COVID-19, but the pandemic required that they shift to being held virtually. For Gayle, the online sessions presented a welcome surprise.
"I actually found it easier to talk during our remote group sessions," notes Gayle, "because I didn't feel that social anxiety. By the second week, I had discovered this was a safe space. No one would judge me or invalidate my feelings and suggest I just needed to 'get over it'."
The shift to delivering virtual care was no small feat for Osler's Mental Health and Addictions Program; it's one of the largest in the province, seeing more than 81,000 patient visits last year alone.
"Our needs don't stop because of a pandemic," explains Melanie, a registered nurse and program lead at Etobicoke General Hospital. "In some cases, our challenges actually become more pronounced. Our team quickly recalibrated to offer the same level of mental health treatment and support, only virtually."
Virtual care options at Osler have greatly expanded since the pandemic began, with it now available in over 20 outpatient clinics and services. Patients who participate can confidentially access health care services through their phone, mobile device or computer via secure video call.
Group therapy sessions are a key component of the Mental Health and Addictions Program for outpatients. Through the program's Stepped Care Model – a four-step approach – patients' needs are matched with the level of service they receive, reserving the most intense, resource-rich services for patients with the most complex needs. As a result, the majority of patients attend group therapy sessions, while those with the greatest level of need also receive one-on-one therapy.
Gayle's social worker, Tatjana, emphasizes the importance of this participation. "More than anything else, group therapy helps people understand they are not alone," she says. "While all participants may not have the same diagnoses, many share similar challenges. Symptoms of anxiety and depression, for example, can be difficult for family and friends to understand if they don't experience the disorders themselves. Talking to others who relate can really help."
The program is run by a multi-disciplinary team of health care professionals, each with additional training in therapy. "Our patients are referred by their health care providers and diagnosed with one or more mental health issues, including anxiety, depression, bipolar disorder, addiction, schizophrenia, and borderline personality disorder," explains Melanie. "We serve a wide variety of individuals."
After completing her intensive support program, Gayle enrolled in a virtual after-care group to stay connected with her fellow graduates. There they discuss the coping skills that are proving most effective and encourage one another on their ongoing journeys.
Gayle has since completed that program and has also returned to work – a feat that once seemed nearly impossible before she began receiving care at Osler. "I'm so much better," she says. "My friends often comment that there's a huge change in me between now and when I first started the program."
"Life is not just 'better.' It's a lot better."