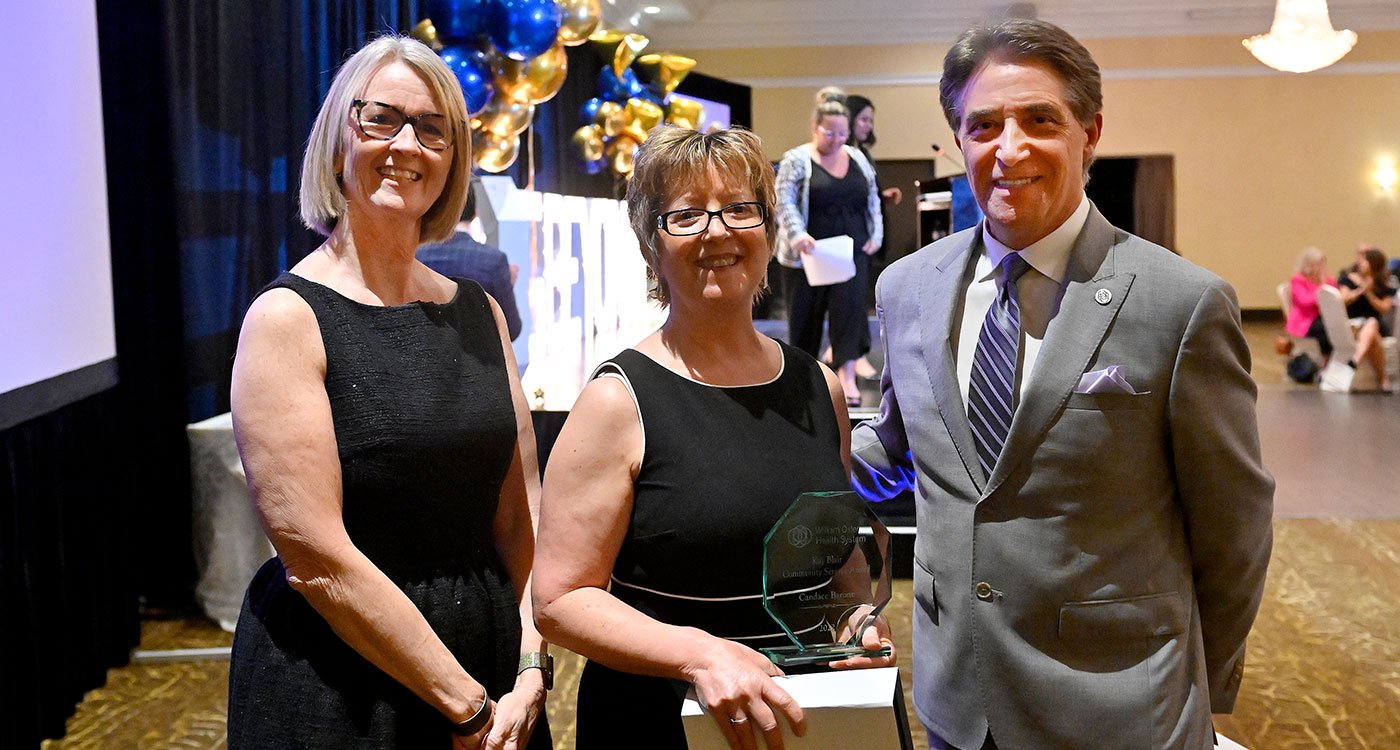 Award named in honour of past Osler Board Chair and long-time hospital supporter, Kay Blair
Candace Barone, Occupational Therapist and a passionate member of William Osler Health System's (Osler) Geriatric Outreach Team, is this year's recipient of Osler's Kay Blair Community Service Award. The award was presented to Candace last week, at Osler's Going Beyond Awards and Gala.
Named in honour of Kay Blair, Past Chair of Osler's Board of Directors, who passed away in 2016, the recognition is awarded to an individual or individuals dedicated to serving the needs of Osler's community, patients and families with compassion, kindness and empathy. The award acknowledges individuals who embrace similarities, celebrate differences and consider patients, families, colleagues and fellow community members with an open mind and a willingness to assist with a caring and compassionate heart.
A valued member of Osler's team since 2008, Candace works collaboratively with her team to proactively find solutions and identify opportunities to improve patient care and service, resulting in better outcomes and an enhanced patient and family experience. Inspired by Kay's passion to meet a clear need in the Brampton community, Candace spearheaded the development of the Kay Blair Hospice, a home-like residence that provides compassionate and personalized end-of-life care for individuals in their last weeks of life, and she is currently their volunteer Executive Director.
"Candace's commitment to the communities we serve, her collaboration with Osler colleagues and community leaders, and her passion for supporting patients are shining examples of going beyond to provide excellent health care closer to home, through all stages of life," said Linda Franklin, Chair of the Board of Directors, William Osler Health System. "We thank Candace for her hard work both within and beyond the hospital walls – she is truly deserving of this recognition and we are very grateful that she is part of the Osler family."
"As an Occupational Therapist, a trained geriatric clinician and proven advocate for seniors, Candace personifies Osler's Vision of providing patient-inspired health care without boundaries," said Dr. Frank Martino, President and CEO, William Osler Health System. "Osler is fortunate to have team members like Candace, who always strive to raise the bar for providing quality, compassionate care."