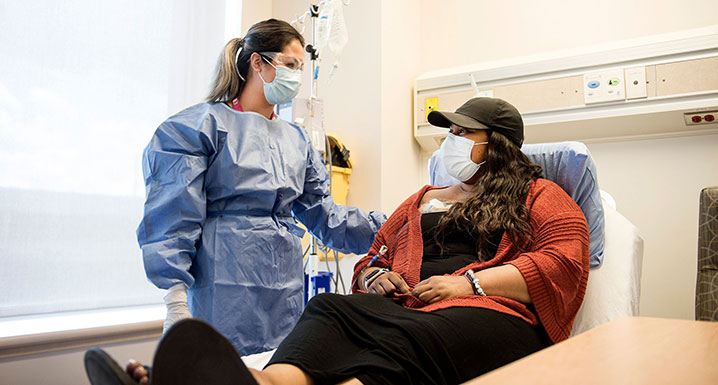 Community invited to dial-in to receive updates on the hospital's COVID-19 response and health care initiatives
William Osler Health System (Osler) is inviting community residents to participate in an upcoming Telephone Town Hall. During the event, participants will have the opportunity to learn about Osler's ongoing COVID-19 response and receive updates about the hospital's programs and services, as well as future redevelopment priorities.
The Telephone Town Hall will be held on Wednesday, December 2 from 7:00 to 8:00 p.m., and will give residents an opportunity to ask Osler's senior leaders questions and provide the organization with feedback. The live event is hosted by Dr. Naveed Mohammad, Osler's President and CEO and will include Kiki Ferrari, Chief Operations Officer; Ann Ford, Executive Vice President, Strategy and Corporate Services; Mary Jane McNally, Chief Patient Experience Officer; and Frank Martino, Interim Vice President, Medical Affairs, Research and Academics.
"It is more important than ever for Osler to keep the community informed and this Telephone Town Hall is one of the ways we can share updates about our efforts to combat COVID-19, as well as about our important health care programs, services and initiatives," Dr. Naveed Mohammad. "We look forward to connecting with the community during the event and answering questions from community members."
More than 110,000 households across Brampton, Etobicoke and surrounding areas will be contacted and invited to participate in the Town Hall via telephone just before the event begins. Residents who are interested in pre-registering are able do so online or by leaving a voice mail with their phone number at (416) or (905) 494-2120 ext. 50200 before 12:00 p.m. on Wednesday, December 2.