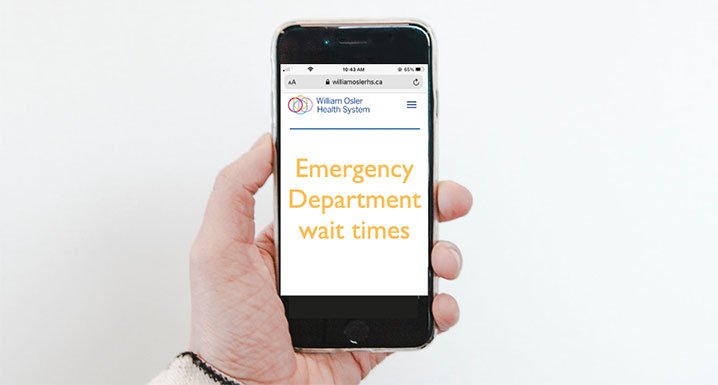 Local residents can now view the current expected wait time to see a doctor or nurse practitioner at William Osler Health System's (Osler) Emergency Departments, before coming to a hospital for care. The wait times for both Brampton Civic Hospital and Etobicoke General Hospital Emergency Departments (ED) are now available on Osler's website and in the hospitals' emergency department waiting rooms, providing patients and those seeking care with information that lets them know what to expect so they can plan ahead when possible, and make informed decisions about their care.
Individual wait time is determined by the seriousness of a patient's illness/condition and the number of patients who are awaiting care, meaning the sickest patients will be seen most quickly. Regardless of the wait time displayed on the 'ED Wait Clocks', anyone who is in need of emergency care should immediately come to the Emergency Department or call 911.
"We're pleased to be able to provide this resource to our patients and community, and provide anyone coming into our Emergency Departments with useful information at their fingertips to help make their experience less stressful," said Kiki Ferrari, Chief Operating Officer, William Osler Health System. "Sharing timely information about the expected wait will have a significant positive impact in improving the patient experience by helping to keep patients and families informed."
The current estimated wait time includes the time it takes a patient to be triaged, registered, and seen by a physician or nurse practitioner. Refreshed every 30 minutes, Osler's ED Wait Clocks also provide information on how many patients are being treated, how many patients are waiting to be treated, as well as predicted wait times over a 24-hour period. Wait times reflect the 90th percentile – meaning nine out of 10 patients are likely seen within this time.
"One of the most frequent questions patients in our Emergency Departments ask is "How much longer will it take for me to see a doctor?" and the ED Wait Clocks are another way to help keep people informed during what can be a very stressful time" said Dr. Andrew Healey, Chief of Emergency Medicine, William Osler Health System. "It's important to stress that patients should not make decisions about their care solely based on the wait time, and should use the seriousness of their symptoms to guide their decision to come to the Emergency Department."
Check out Osler's ED Wait Clocks.