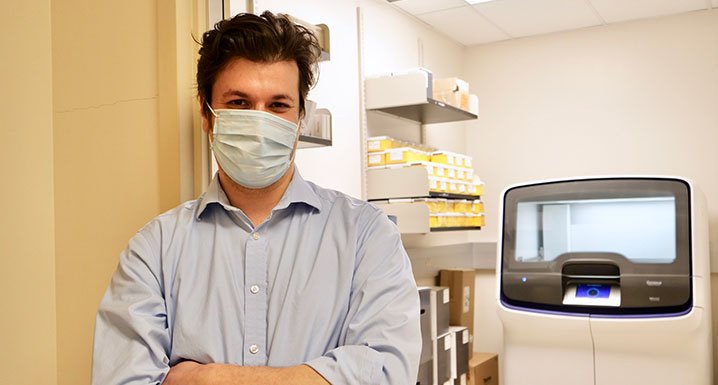 For patients with cancer, the faster they are diagnosed, the sooner they can start potentially life-saving treatment. New technology, available only at William Osler Health System (Osler), is speeding up this process, providing diagnoses in days instead of weeks. In the area of oncology, this is a game-changer.
Osler is the first hospital anywhere in the world to offer genetic testing through 'rapid comprehensive next generation sequencing' – a rapid examination of the genetic changes inside of a tumor.
For Nancy Watt, this technology is offering her new hope. Nancy – who has stage 4 lung cancer – underwent intravenous chemotherapy for years. Eventually, that treatment stopped working and Nancy, 60, was referred to Osler where her cancer journey took an unexpectedly welcome turn.
Within just days, Osler's laboratory team, led by pathologist Dr. Brandon Sheffield, was able to determine the specific genetic underpinnings responsible for Nancy's cancer. She was then referred to Osler oncologist, Dr. Parneet Cheema who started her on oral medication which targeted her cancer.
"With patients having access to rapid results based on their tumour's genetics we are able to offer targeted therapy that is far more effective and better tolerated than other traditional treatments for cancer, like chemotherapy and radiation," says Dr. Cheema. "This type of rapid diagnosis is critical, especially for patients with late stage cancers that have spread to the lungs or brain where treatment must be started immediately because patients don't have time to wait."
Today, Nancy's life is very different; her symptoms have improved significantly and she is looking forward to returning to her job as a teacher. "It's hard to express how grateful I am to be looking forward to leading a more normal life," says Nancy. "I wouldn't be able to do that without this technological discovery."
With rapid genetic testing and care being offered at the same hospital, each patient has a seamless health care journey, with the laboratory and oncology teams working together.
"Patient care isn't completed by one person, but collaboratively as a team," says Osler pathologist, Dr. Brandon Sheffield, Pathologist, Medical Director of Immunohistochemistry and Molecular Pathology and Physician Lead, Research. "In using our next-generation sequencer, we've had several internal partners collaborate to help our patients – our lab, surgery, oncology and research teams have been instrumental. We come together to enable more effective and quicker treatments for patients right here and right now."
Dr. Sheffield has been instrumental in the acquisition of Osler's newest next generation sequencing technology. With a strong focus on research and oncology clinical trials, the acquisition of this new technology supports Osler's goal to advance its clinical research program and utilize it to improve patient care and outcomes by making the best technology and treatments available closer to home for those who live in our community.