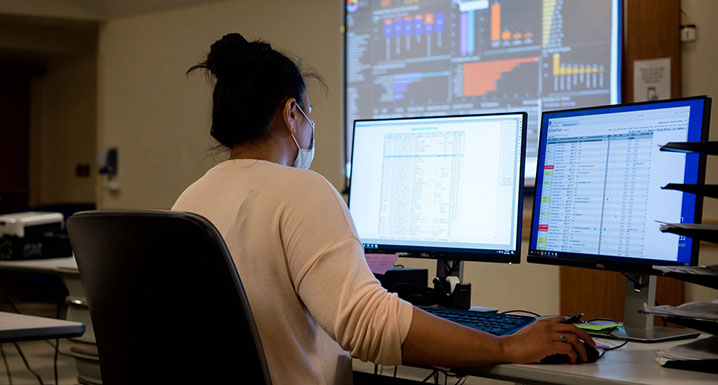 As hospitals in Ontario prepare for the annual cold and flu surge and a possible second wave of COVID-19, William Osler Health System (Osler) is looking to its innovative new Operational Command Centres to help manage what is anticipated to be a very busy period.
"We really wanted to find a more timely way to safely move people needing inpatient care out of our emergency departments and into the beds best suited to meet their needs," says Clint Atendido, Vice President, Clinical Services. "Thanks to our Operational Command Centres, we can now monitor emergency department and inpatient care activity at Brampton Civic Hospital and Etobicoke General Hospital in real time, quickly identify any barriers to accessing a bed, and take immediate action."
The Centres are actually physical and virtual 'hubs' located at each hospital. A part of Osler's Digital Transformation strategy, they contain a series of customized electronic dashboards created by Osler's Information Services department. Staff responsible for patient admissions, patient flow, housekeeping, portering, infection prevention and control, and staffing can all sit together in one room, allowing them to make joint decisions in real time. The dashboards allow team members to see where every inpatient is from the moment they are admitted to the Emergency Department (ED) to the moment they are admitted to a bed on one of Osler's inpatient units.
"The secure, user-friendly dashboards help identify where we have an increase in patient volumes, provide digital access to all open beds across the hospital and those likely to be open soon, allowing us to take immediate action," says Lindsay Hogeboom, Manager, Access and Flow. "We can see how many beds are available, who is being discharged, who is a potential for discharge and where there may be barriers, so that we can safely move patients from the EDs in a timely manner to the right inpatient bed on the right unit, particularly those requiring isolation."
The dashboards can also be securely accessed by clinical teams 24/7 on their mobile phones, and remotely by decision-makers when offsite so that everyone is working with the same information.
This proved very useful when Osler needed to quickly maximize its space to accommodate an influx of elderly residents transferred from long-term care home partners during the height of the pandemic and identify the availability of specialized rooms for patients requiring isolation.
"The transparency and accountability built into the system means we're empowering our leaders, physicians and staff to make more timely decisions that will not only help us minimize the wait time for an inpatient bed, but also enhance quality and patient safety, as well as the overall patient and staff experience." says Atendido.