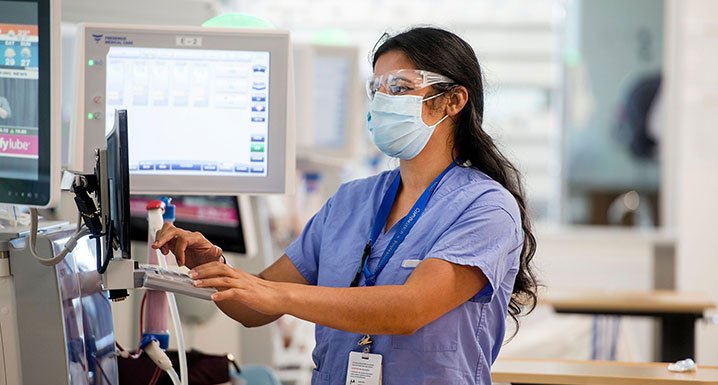 Supporting the community with vital kidney care close to home
William Osler Health System (Osler) is home to one of the fastest-growing regional renal programs in Ontario. When the Etobicoke Renal Centre (ERC) opened its doors in April 2020, this marked an opportunity in the Etobicoke community to support the needs of residents by providing vital renal care, closer to home for patients who need it the most. Shannon Fogarasi and Baljinder Toor are two of the many Osler staff members at ERC providing quality care for renal patients in Etobicoke instead of travelling to Brampton for treatment.
"Before the ERC opened in April 2020 to provide care for Etobicoke patients, it was challenging for some patients living in Etobicoke to travel to Brampton Civic Hospital for treatments, especially those who are most vulnerable, and who need their life-sustaining dialysis treatments several times a week," said Shannon Fogarasi, Clinical Services Manager, Etobicoke Renal Centre, William Osler Health System.
The renal team has had a positive impact on the quality of life for many patients and renal home dialysis has been a game changer for those in the Etobicoke community living with kidney disease and dialysis.
Osler's Home Dialysis Program became available in September 2020 at the ERC and includes both home peritoneal dialysis and home hemodialysis. The innovative yet simple program teaches patients and their families how to carry out home-based dialysis independently, in the comfort of their home. In addition the dedicated program staff provide teaching for new patients as well as continuous support and monitoring of each patient as needed.
Patients and family members have been particularly grateful that they don't have to travel to the hospital during the COVID-19 pandemic, and are equipped to dialyze at home at a time that fits with their schedules and lifestyle.
Over the last year, the team at the ERC has been busy providing over 12,000 treatments, averaging 1,100 dialysis treatments each month. The outpatient hemodialysis program started with 83 patients and has grown to 108. Since September 2020, in-home dialysis started with 42 patients and has grown to over 70 patients.
"We have had a lot of challenges with COVID-19 but the team is dedicated and supports our patients and each other," notes Baljinder Toor, Resource Nurse, William Osler Health System. "Many of our patients have not seen their families during the pandemic, or have lost loved ones, and because their caregivers cannot join them during their treatment three times a week, we've become their second family. We are privileged to lend support and create a positive environment for our patients."
Learn more about our renal program.