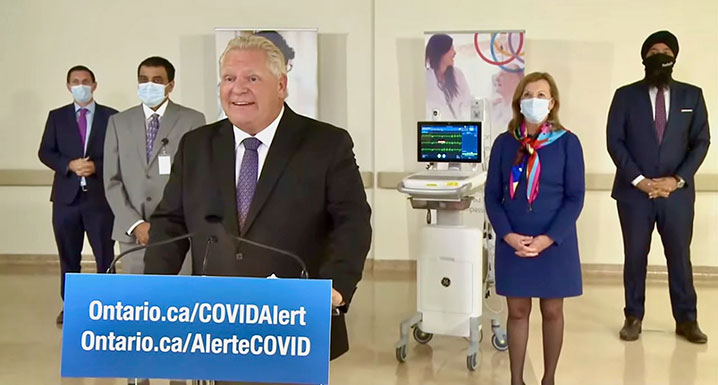 Today, Premier Doug Ford and Christine Elliott, Deputy Premier and Minister of Health, visited William Osler Health System (Osler) to announce immediate funding to increase hospital inpatient capacity. The funding supports 87 additional beds across Brampton Civic Hospital and Etobicoke General Hospital, which will further enable Osler to provide care to a growing number of patients in the time ahead.
"We greatly appreciate the government's critical investment in our hospitals and value its commitment to ensuring increased access to care for patients and this community in the time ahead," said Geoffrey Ritchie, Board Chair, William Osler Health System. "The funding announced today will allow us to address current capacity pressures and prevent hallway medicine at our hospitals – actions that will greatly benefit everyone who relies on us for care."
The announcement, which builds upon the Ontario Government's Keeping Ontarians Safe Plan, was made at Brampton Civic with other dignitaries in attendance. Joining Premier Ford and Minister Elliott were Prabmeet Sarkaria, Associate Minister of Small Business and Red Tape Reduction and Member of Provincial Parliament for Brampton South and Patrick Brown, Mayor of Brampton.
Osler – like other hospitals in Ontario – has been preparing for an increase in the number of patients who will require care in its hospitals as a result of the growing number of COVID-19 cases and the cold and flu season.
"Today's announcement is good news for the communities we serve and comes at a time when Osler's dedicated health care teams are working tirelessly to combat COVID-19, and are preparing to manage the flu season and anticipated winter surge," said Dr. Naveed Mohammad, President and CEO, William Osler Health System. "This investment further enables Osler and its partners to respond to an increase in demand for services and continue to provide high-quality, compassionate care to our patients."