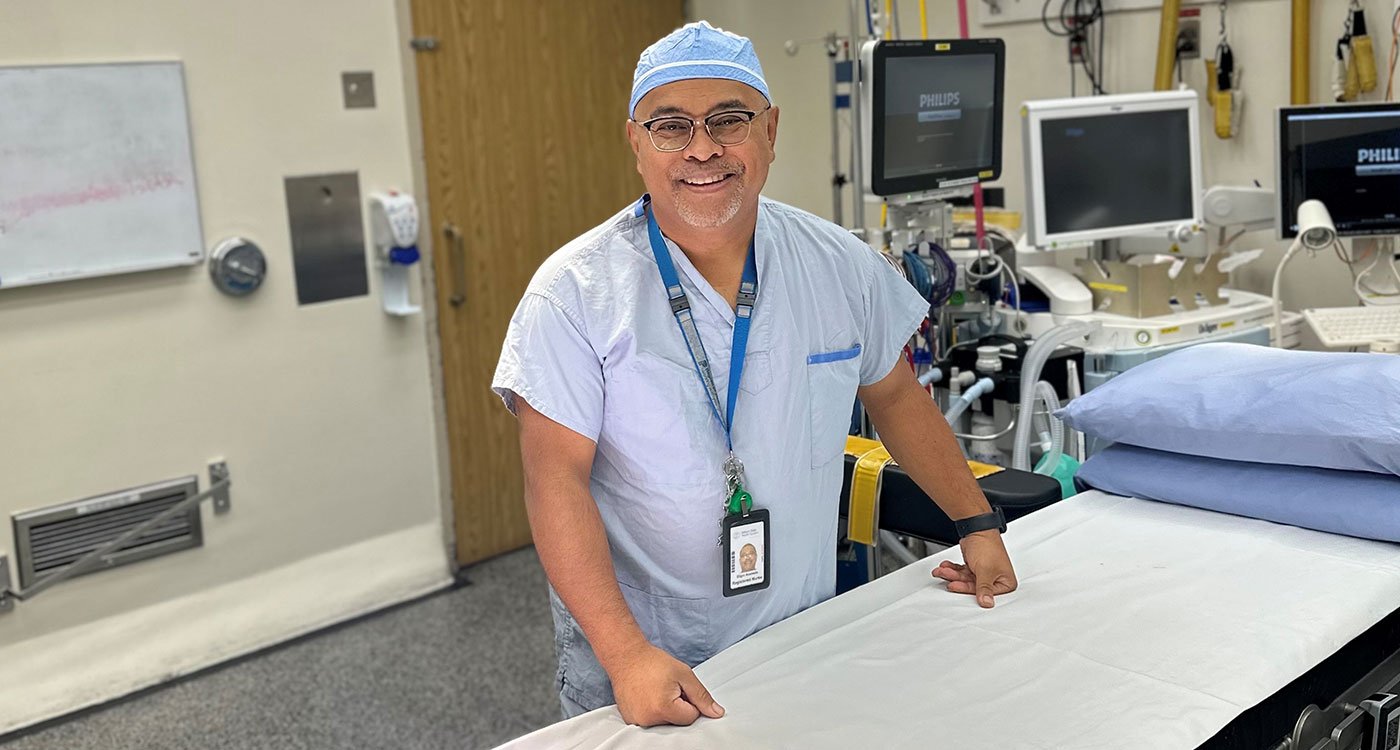 In the dynamic realm of health care, operating room (OR) nurses hold a pivotal role in patient safety during surgical procedures. At Osler, OR nurses exemplify our commitment to patient-centred care and teamwork. Eligio Acebedo, an experienced OR nurse shares his rewarding and impactful journey so far at Osler.
Dedication to nursing: A lifelong passion
Eligio, an experienced Registered Nurse (RN) with nearly 30 years of dedicated service, shares his remarkable career insights and personal highlights. Having graduated as a RN in 1994, he joined Osler's Etobicoke General Hospital in 2003, where he has served in the OR for nearly two decades. Eligio's journey into nursing was inspired by the compassionate work of his mother, a nursing assistant at St. Joseph's Health Centre. While waiting to pick up his mother from work, he often talked to patients in the hospital, hearing their stories. "It was in those moments that I realized I wanted to be a nurse and make a difference in the lives of others." For Eligio, nursing is not just a profession, it's a lifelong passion. "It's exciting – you deal with life-and-death situations, and you learn to trust your team and your knowledge base." The rewarding aspect, he adds, is "unexplainable".
Fostering personal growth and development
Eligio, having served as a team leader, believes that the opportunity for team members at Osler to step into leadership roles is readily available. "Personal growth is valued and encouraged here - it's important because it helps you sustain what you do. At Osler, nurses are provided with opportunities and support to grow professionally, gain confidence, and enhance their skills." Osler is dedicated to innovation and learning, constantly looking for better ways to provide care. "We have critical projects to help develop better ways to provide care or learn new techniques for surgeries." Technological advancements have significantly improved surgical procedures and Osler nurses are continuously encouraged and granted opportunities to learn these developments. "The commitment to continuous learning opportunities, such as educational seminars and specialized training, is a testament to Osler's investment in the growth of its nursing staff."
Careers that go beyond
Having been with Osler for an impressive 20 years, Eligio has experienced the exceptional opportunities for personal and professional growth.
"If you are looking for a health care environment where you can truly make a difference, Osler is the place for you. The collaborative spirit, unwavering support, and continuous growth opportunities are just some of the reasons why Osler stands out."
Are you ready to join Eligio?
Come join our diverse team of Osler Strong professionals! We're dedicated to fostering an inclusive environment, providing the best-in-class care and opportunities for education and advancement in various specialties.
Apply today to exciting roles in our Surgical Services program at Brampton Civic Hospital, Etobicoke General Hospital, Peel Memorial Centre for Integrated Health and Wellness, and the Withdrawal Management Centre.