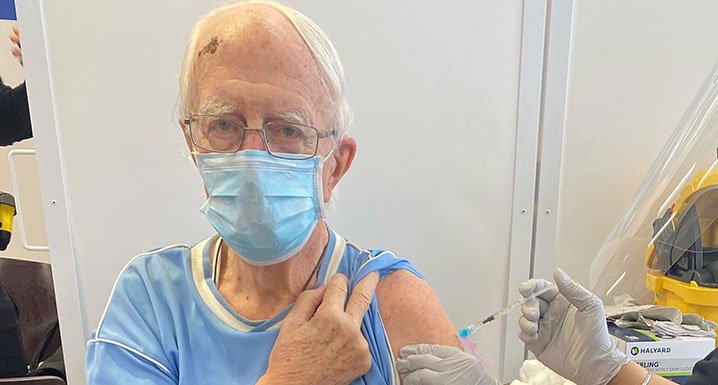 Local eligible seniors can now book an appointment by phone and online for Osler's COVID-19 Vaccine Clinic
William Osler Health System (Osler) is now vaccinating Peel Region residents who are 80 years of age and older or who will be turning 80 in 2021 against COVID-19. Starting, Monday, March 1, eligible residents are able to book appointments by phone through a dedicated line and online through Osler's website to receive their COVID-19 vaccine.
"This is a very exciting milestone for our community and Osler is proud to play an integral role in administering the rollout of the COVID-19 vaccine in Peel Region," said Kiki Ferrari, Chief Operating Officer, William Osler Health System. "Osler is working closely with our partners at Peel Public Health to support the vaccination of this priority group through Peel's Community Mass Vaccination Plan as part of our continued efforts to reduce the spread of the virus."
Those who are eligible for the COVID-19 vaccine are able to schedule an appointment at Osler's COVID-19 Vaccine Clinic at Chinguacousy Wellness Centre during regular hours of operation – 8:00 a.m. to 6:00 p.m. daily – based on availability.
Since Osler opened its COVID-19 Vaccine Clinic in December, it has administered more than 16,000 COVID-19 vaccinations, in alignment with the Ontario Government's three-phased Vaccine Distribution Plan. Osler remains committed to sharing information with the community as more information becomes available and as more priority groups are added.
What do I need to know about booking an appointment for the COVID-19 vaccine at Osler?
People who are 80 years of age and older or who will be turning 80 in 2021 can now choose to schedule an appointment for their COVID-19 vaccine by phone or online.

Phone: (905) 494-2120 ext. 56685 from 8:00 a.m. - 6:00 p.m. daily

To book an appointment for a COVID-19 vaccine at an Osler Vaccine Clinic, you will be asked to provide your name, date of birth, as well as your phone number and an email address. You will receive email confirmation.
Please bring your green Ontario Health Card to your appointment if you have one or another form of government-issued identification If you identification does not include your address, please bring proof of residence, including a bill or bank statement, with you.
As directed by the Ministry of Health, Osler's Vaccine Clinic can only administer the COVID-19 vaccine to residents of Peel Region. Residents of other regions are asked to contact their local public health unit for more information.
Learn more about Osler's COVID-19 Vaccine Clinic.