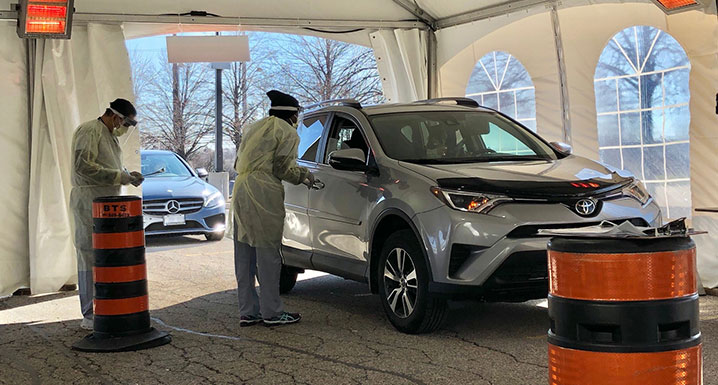 New appointment system aligns with Ontario Government's direction for all testing centres
On Friday, October 2, the Ontario Government announced plans to update its approach to COVID-19 testing across the province by transitioning all COVID-19 Testing Centres to pre-scheduled appointments. In alignment with this direction, effective today, Sunday, October 4, William Osler Health System (Osler) is implementing an appointment-based system and is discontinuing unscheduled testing.
Osler has begun in-person appointment booking at its Testing Centres and will transition to an automated booking system in the days ahead. At this time, people who are eligible for COVID-19 testing are asked to visit an Osler Testing Centre to book an appointment.
"From the very start of this pandemic, Osler's teams have stepped up to serve the community though our testing efforts, and they are now working diligently to make the transition to this new appointment-based model as smooth as possible for everyone," said Kiki Ferrari, Chief Operating Officer, William Osler Health System. "We ask the community for patience and cooperation while we transition to this new system."
Through the transition to pre-scheduled appointments, the Ontario Government aims to provide certainty to patients as to when they can receive a test, and to allow for enhanced screening to ensure that patients meet the criteria for testing.
What do I need to know about booking an appointment for a COVID-19 test?
Starting today – Sunday, October 4 – people who meet the criteria for COVID-19 testing will be required to make an appointment. At this time, appointments can be made in-person at Osler's Testing Centres in Brampton (South Fletcher's Sportsplex) and Etobicoke (Hwy 27 and Queen's Plate Drive).
Appointments can be booked in-person from 8 a.m. to 8 p.m. daily.
Each individual who books an appointment will be provided with a date and time-slot to receive their COVID-19 test. Appointment times will be for individuals only. Each person being tested – even if they are from the same household – will require a separate appointment.
Osler's COVID-19, Cold and Flu Clinic remains open to test people who have symptoms and want to receive a medical assessment by a physician.
As the situation around COVID-19 evolves, we ask anyone wanting a COVID-19 test to continue to visit Osler's website for updates about how to book an appointment.
For information about the eligibility criteria for COVID-19 testing, booking an appointment for a test, and more, visit our dedicated COVID-19 webpage