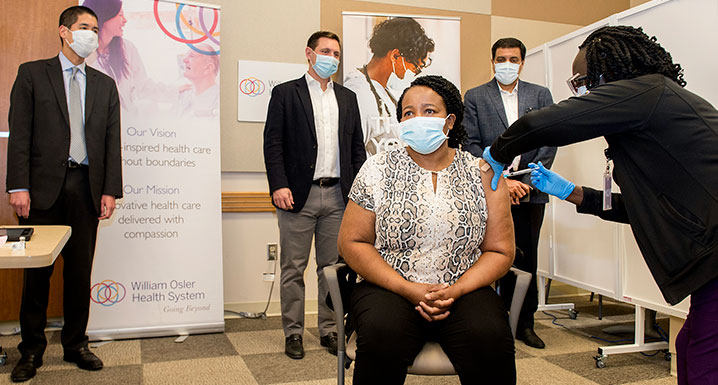 Long-term care home employee receives first vaccine in Ontario's hardest-hit community as province rolls out Phase One of COVID-19 immunization program
William Osler Health System (Osler) administered Brampton's first COVID-19 vaccination today after opening its COVID-19 Vaccine Clinic at Brampton Civic Hospital. The clinic will initially vaccinate health care workers who provide direct care in high-risk settings, with a priority focus on staff working in long-term care in Peel Region.
Vilma Whyte, a Personal Support Worker with Tullamore Care Community, was the city's first recipient of the Pfizer-BioNTech vaccine under Phase One of the Ontario Government's three-phased immunization program.
"Today marks an important milestone in our collective efforts to combat COVID-19 and Osler is proud to administer the vaccine to our health care partners working in long-term care homes," said Dr. Naveed Mohammad, President and CEO, William Osler Health System. "The opening of our COVID-19 Vaccine Clinic represents renewed hope and will help save lives across our community."
Osler is among a number of hospitals in Phase One of the Ontario Government's COVID-19 immunization program. During the first phase of the program – in alignment with the government's direction – Osler will support the vaccination of health care workers in high-risk settings, followed by staff working in retirement homes, and other congregate settings for seniors and hospitals.
"Every day, countless health care professionals prioritize the health and well-being of their patients and today's vaccination is welcome news for all, as we begin the process of offering additional protection to those who serve the most vulnerable in our community," said Kiki Ferrari, Chief Operating Officer, William Osler Health System. "Osler has worked closely with long-term care partners by providing additional support throughout this pandemic, and we are pleased to share this monumental moment with them."
The community Osler serves has experienced one of the highest COVID-19 positivity rates in the province since the start of the pandemic in March, which has also resulted in a high rate of hospitalizations at Osler's sites.
"We appreciate there is a long road ahead of us as we simultaneously continue to care for a growing number of COVID-19 patients in our hospitals and work toward reducing the spread of the virus," said Ferrari. "We are encouraged by the vaccine's arrival, but also recognize that this pandemic is not over and it is still critical that we all continue to practice public health and safety measures."
Through the Ontario Government's COVID-19 immunization program, rollout of the vaccine is expected to accelerate in the coming months, with all eligible Ontario residents who wish to be immunized being able to access a vaccine by the end of 2021.
As the situation around COVID-19 continues to evolve, Osler is committed to keeping the community informed. Learn more about COVID-19 and Osler's COVID-19 Vaccine Clinic.