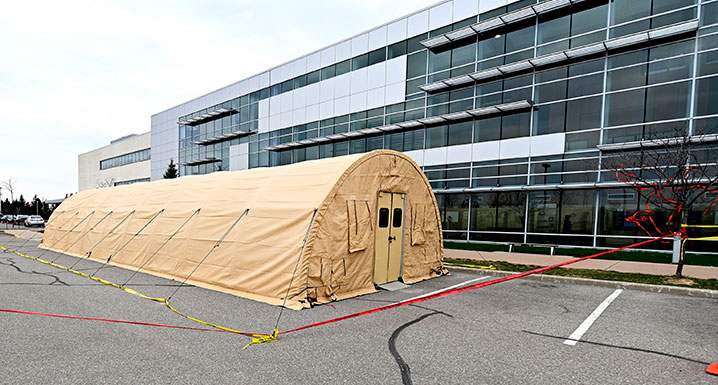 As part of ongoing preparations to ensure William Osler Health System (Osler) is well positioned to provide emergency care for an increased number of patients in the coming weeks, a temporary triage area is being erected at its Brampton Civic Hospital and Etobicoke General Hospital sites. The temporary structures are part of Osler's escalated preparedness efforts as set out in its Pandemic Plan.
The temporary Emergency Department triage structures, which will remain vacant until they are needed, can be used to provide added capacity for Osler's Emergency Departments should the need arise. They will provide a dedicated space for triaging patients who may require emergency care and will support the safety of patients who do not have COVID-19.
The infrastructure tents are generously provided and installed by GlobalMedic, a registered Canadian charity that runs capacity-building programs and provides disaster relief services around the world. The structure at Brampton Civic Hospital will be installed over April 3 and 4, and located on the south side of the building close to the Emergency Department. The structure at Etobicoke General Hospital will be installed at a later date.
"While we are currently managing capacity well, this tent is being installed as one of the many proactive steps Osler is taking to ensure we are well prepared to care for an increasing number of patients in the time ahead," says Kiki Ferrari, Executive Vice President, Clinical Operations at William Osler Health System. "The health and safety of patients, staff, physicians, volunteers and our community is a top priority and increased capacity will enable us to continue to provide quality health care even as the situation evolves."
For current information about COVID-19 and services at William Osler Health System, visit our dedicated COVID-19 webpage.