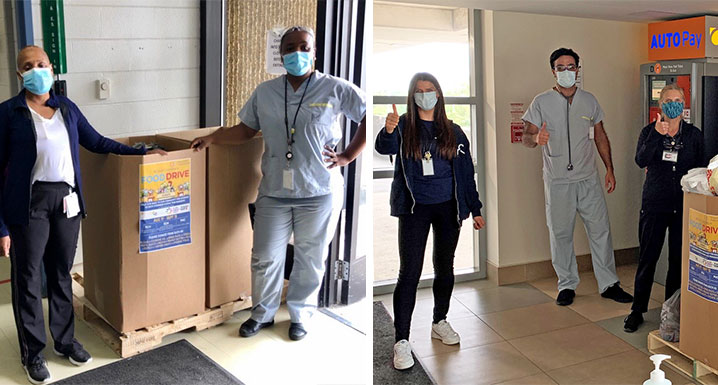 Since the beginning of the COVID-19 pandemic in March, William Osler Health System (Osler) has "felt the love" from the community. From meal and gift donations, thank you salutes, and words of kindness, the community showed incredible gratitude to our health care heroes.
It is exactly this kindness and an awareness of the challenges faced by the most vulnerable in Osler's community during this unprecedented time that spurred Osler's first 'Back to School' Food Drive.
The Back-to-School Food Drive ran from August 17 to September 13, during which Osler staff, physicians and volunteers from across the hospital's three sites provided non-perishable food items to be donated to local food banks.
A total of 16 bins totaling more than 2,000 pounds of food were collected. Seva Food Bank, Caledon Community Services, Knights Table, and Regeneration Outreach were recipients.
Christina Menchella, a Social Worker at Brampton Civic Hospital's Emergency Department (ED), was immediately eager to be a part of the food drive. She didn't hesitate to say yes when approached by Osler ED physician Dr. Jeff Handler, for support with the initiative.
"I work with vulnerable communities and have pre-existing relationships with many of these food banks, so I was excited to be a part of this from the start," said Christina. "As an organization, we value the support these food banks provide to our vulnerable patients and community members, especially during the pandemic when access is even more difficult. This food drive was a way for us to help them help the community."
Christina was involved in everything from logistics and raising awareness to monitoring the food drive bins at the Brampton Civic site. Also assisting with coordination was Joan Reid, a Geriatric Emergency Management Nurse at Brampton Civic.
"I am so proud to have helped coordinate such a meaningful cause and work with my fellow colleagues and our local food bank, including those which cater to the needs of our community's most vulnerable seniors" said Joan. "It was great to see us all come together to support organizations that contribute so much to the community we serve."
In addition to overseeing the food drive bins at Osler's Etobicoke General Hospital and Peel Memorial Centre for Integrated Health and Wellness, Karen Merriott, a Geriatric Emergency Management Nurse at Etobicoke General, worked to bring awareness of the food drive to staff. She visited different units, distributing flyers, obtaining support from staff, and encouraging staff to donate.
"It means a lot to have been a part of this. It's a great effort and a way to give back to the community that has given so much to us during these difficult times," said Karen. "During this time, some people have lost their jobs and some who have difficulty accessing food ask us where they can get it. We know that there's a need."
"We received so many donations, which is so great to see. I hope this really shows the food banks and the community how really grateful we are for the support we've received," adds Christina.
A special thanks to the many individuals and teams that rallied to support this initiative, including those who organized the drive: Christina Menchella, Gurwinder Gill, Joan Reid, Josephine Evila, Dr. Jeff Handler, Karen Merriott, Michelle Alphonso and Dr. Prashant Phalpher.