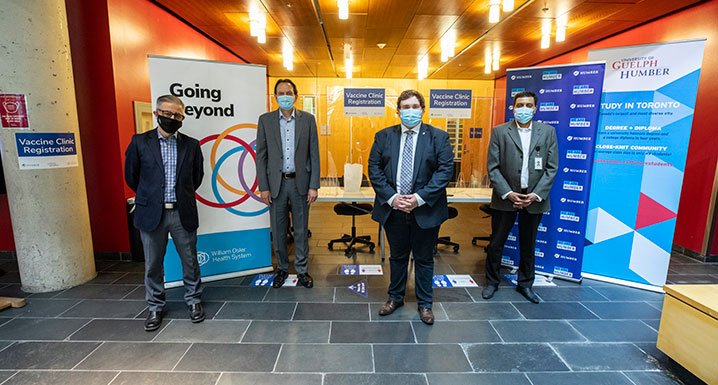 William Osler Health System (Osler) is pleased to announce the opening of the Osler-Humber College COVID-19 Vaccine Clinic tomorrow in partnership with Humber College and the University of Guelph-Humber. The clinic expands access to the COVID-19 vaccine and continues to serve residents in Osler's North Etobicoke catchment area.
As part of this partnership, Osler is providing oversight of the Vaccine Clinic and offering practical experience for Humber and UofGH students. As many students have not been able to receive a clinical placement due to COVID-19, the Vaccine Clinic transition provides important on-the-job training for the next generation of clinicians who will benefit immensely from the practical, real-world experience of administering vaccines to local residents.
The clinic will maintain hours similar to the clinic at Etobicoke General Hospital, between 8:00 am to 4:00 pm up until Friday April 16. The goal is to ramp up to open seven days a week and have hours that can accommodate essential workers in the community who may work shifts.
Appointments at the Osler-Humber College COVID-19 Vaccine Clinic can be booked online through Osler's website or by phone at 905-494-6685, from 8:00 a.m. to 6:00 p.m., seven days a week. Vaccinations are by appointment only.