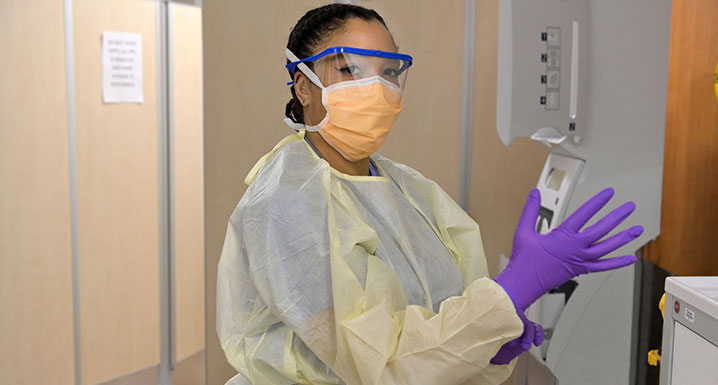 As health care workers continue to battle COVID-19, William Osler Health System (Osler), like all Ontario hospitals, is preparing for an increased number of COVID-19 cases and for an increased need for personal protective equipment (PPE), should the need arise.
To help ensure Osler's three hospitals—Brampton Civic Hospital, Etobicoke General Hospital and Peel Memorial Centre for Integrated Health and Wellness—have adequate supplies over the coming weeks, a collection drive has been launched for donations of Canadian Standards Association (CSA)-approved PPE from the community.
Specific items needed include unused, unopened and unexpired:
Protective gloves
Ear-loop masks
N95 respirators
Gowns
Vented goggles
At this time, Osler has enough supply to meet community need, even though there are global supply chain concerns based on the significant international demand for these products. Businesses and individuals who have surplus supplies are encouraged to give. All donations will be inspected, assessed, cleaned and disinfected, where possible.
"Personal protective equipment is critical to ensuring the health and safety of our patients, staff and physicians, and never has it been more important than it is right now as we fight the spread of COVID-19," says Kiki Ferrari, EVP, Clinical Operations for William Osler Health System. "Osler staff and physicians are working tirelessly to ensure we keep our patients and the community healthy, and we are committed to providing our teams with the supports and equipment they need for safe, high-quality care delivery."
Cash donations to purchase life-saving equipment and help Osler's health care heroes fight COVID-19 are also appreciated. Right now, all gifts to Osler Foundation will be doubled. To help Osler's hospitals respond to COVID-19, Steve Robinson, Wealth Advisor with RBC Dominion Securities, is matching all gifts up to $250,000. Donations can be made online at www.oslerfoundation.org/covid19.
"This is an unprecedented time, not only for our communities, our country and our world—but specifically for health care workers," says Ken Mayhew, President and CEO of William Osler Health System Foundation. "Osler's personnel have mobilized and are responding to COVID-19 with the same dedication and expertise they show day in and day out. They are health care heroes. We are grateful for the support and cooperation of the community during this difficult time."