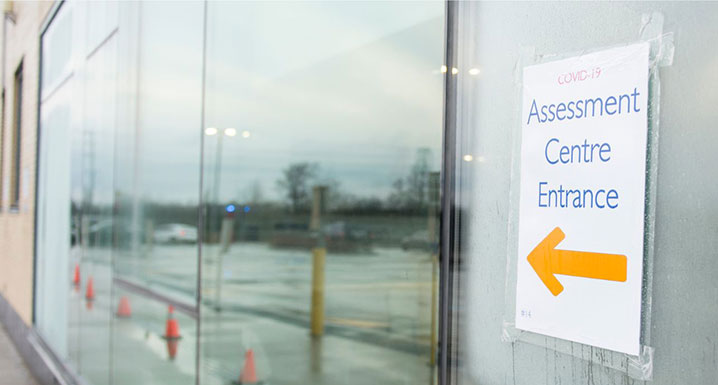 With the number of cases of COVID-19 on the rise in Canada, William Osler Health System (Osler) is one of a number of hospitals across the province taking proactive steps to ensure the health and safety of its community through the opening of an assessment centre to screen for COVID-19.
The Assessment Centre at Peel Memorial Centre for Integrated Health and Wellness is a dedicated clinic that assesses people in the community with possible symptoms of COVID-19. Based on an assessment of their symptoms, people may be tested for COVID-19, as appropriate, and receive direction regarding next steps in their care.
The Osler Assessment Centre is not a walk-in clinic. Assessment Centre Hours are from 2:00 p.m. to 8:00 p.m., seven days a week. This facility is located in a self-contained area at Peel Memorial and does not impact other patients who are attending the Urgent Care Centre or outpatient services at the site. Osler continues to be a safe place to receive care.
"The opening of the Assessment Centre marks a significant next step in our efforts to ensure we keep the community safe, as well as help to reduce patient volume pressures in our Emergency Departments and Urgent Care Centre so staff and physicians can continue to address the needs of vulnerable patients with urgent and emergent health care issues unrelated to COVID-19," said Kiki Ferrari, Executive Vice President, Clinical Operations, William Osler Health System. "The health and safety of staff, physicians, volunteers, students, patients, families and the community is a top priority in the planning for this centre, and we extend our thanks to our internal teams and health partners for coming together so quickly to help mobilize this critical function for this region."
There is no referral needed to come to the Assessment Centre, and family physicians and community-based specialists can confidently refer patients who are experiencing possible symptoms of COVID-19.
The Assessment Centre will only screen and assess people in the community who:
Have travelled anywhere outside Canada in the last 14 days; AND
Have flu-like illness including fever, cough, sore throat or respiratory symptoms (e.g., shortness of breath, trouble breathing); OR
Anyone who has been in contact with someone who has flu-like symptoms who has travelled outside Canada in the last 14 days; OR
Anyone who has been in contact with someone who has a presumptive/probable or confirmed case of COVID-19.
If you are wondering whether you should attend a COVID-19 Assessment Clinic, visit the Peel Public Health COVID-19 webpage.
What do I need to know about the Assessment Centre?
The Assessment Centre is located at Peel Memorial Centre for Integrated Health and Wellness at 20 Lynch Street in Brampton.
The space is only accessible to patients via an outside entrance on the South side of Peel Memorial and includes dedicated outdoor parking.
Signage will be posted at main entrances and around the exterior of the building to help guide people to outdoor parking and the appropriate entrance for the Assessment Centre.
No visitors will be able to attend the Assessment Centre. Exceptions will be an adult accompanying a child who is a patient, a frail older person, a person with a disability or anyone acting as an interpreter, in order to better ensure the safety of staff and patients.
People will be required to wear the provided masks and use hand sanitizer prior to entering the Assessment Centre.