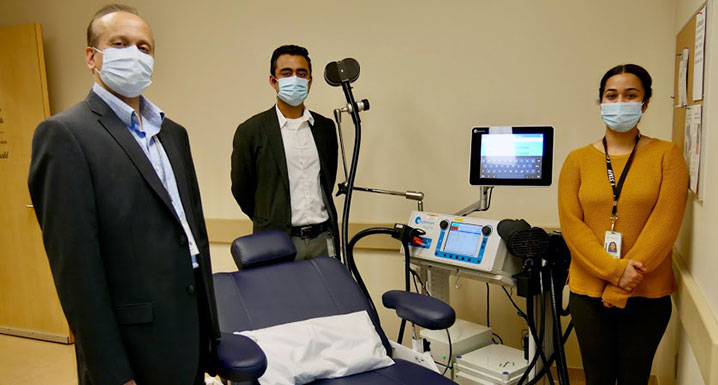 State-of-the-art treatment for moderate to advanced depression and mood disorders is now closer to home for patients in the communities Osler serves. On October 5, the start of Mental Illness Awareness Week, Osler officially opened its Repetitive Transcranial Magnetic Stimulation (rTMS) Clinic.
rTMS is a safe, non-invasive treatment that uses a magnetic field to stimulate nerve cells in the brain that are involved in controlling emotions. With repeated treatments, the magnetic pulses impact how the brain works, to ease depression symptoms and improve mood, with little or no discomfort. Compared to other treatments for depression and mood disorders, rTMS has fewer side effects.
Osler is one of the first community hospitals in the province to offer rTMS treatment. The Clinic is part of Osler's innovative Stepped Care Program – the hospital's outpatient Mental Health and Addictions Program – which provides leading-edge, high-intensity treatment for patients with mental illness. The Clinic houses two rTMS machines made possible by a lead gift from Bell Let's Talk, with an additional donation from Osler's own physicians of the Mental Health and Addictions Program.
"rTMS treatment is invaluable, particularly for patients who have treatment resistant depression and those who do not tolerate medications due to their side effects," said Dr. Razi Sayeed, Corporate Chief of Psychiatry and Medical Director, Mental Health and Addictions. "Osler is pleased to be able to provide this innovative treatment to patients in this region and increase access to state-of-the-art services that will support many through their mental health journey."
Osler's Mental Health and Addictions Program receives approximately 1,400 referrals each month, with approximately 70 percent of these patients requiring treatment for depression. Patients who qualify for rTMS treatment must be referred by a physician.
"The team has worked diligently to get the Clinic running while taking into account new safety and infection control measures in place," says Dr. Prakash Babani, Adult and Geriatric Psychiatrist. "With Osler being home to one of the province's largest mental health and addictions programs, this new Clinic will further enhance our ability to provide much needed care to our patients."