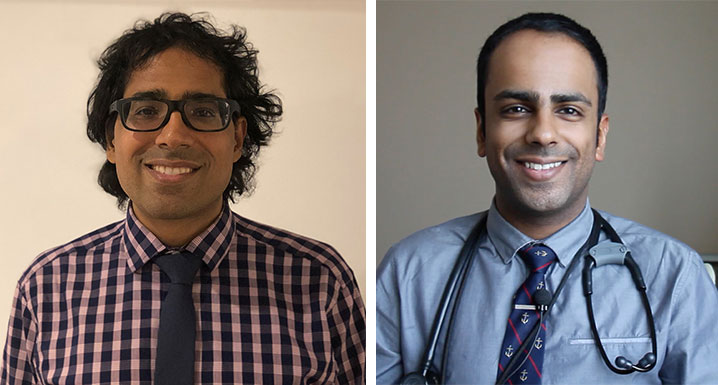 You'll find Osler's Dr. Naheed Dosani wherever the need is; working both on the frontlines and behind the scenes providing supportive palliative care that helps patients with life-limiting and life-threatening illness live their fullest, most meaningful lives. This approach, coupled with his unbridled passion for helping the most vulnerable in our society has garnered many accolades for the palliative care physician.
Last week, Dr. Naheed Dosani received the prestigious 2020 Humanitarian Award from the University of Toronto's Faculty of Medicine. Dr. Dosani founded Canada's first community-based palliative care outreach program to support Toronto's most vulnerable and marginalized citizens. To date, the program called Palliative Education and Care for the Homeless (PEACH), has provided care for hundreds of people who are homeless or under-housed. Through his work, Dr. Dosani also inspired the creation of Journey Home Hospice (JHH), a residential hospice that provides high-quality end of life care.
"I'm inspired daily by the people I care for, and by all those who work tirelessly to end health disparities," Dr. Dosani says. "Equitable care is a fundamental human right."
A true humanitarian, throughout the COVID-19 pandemic Dr. Dosani has worn many hats, providing support in the hospital and in the community where it is greatly needed. Dr. Dosani took on the role of Medical Director of the Region of Peel's COVID-19 Homeless Response and has acted swiftly to mobilize public health interventions for people experiencing homelessness in the region.
His passion is shared by Dr. Amit Arya who recently received an Award of Excellence in Social Responsibility from the University of Toronto's Department of Family and Community Medicine to recognize his outstanding contributions to social responsibility, in addition to his innovations in clinical care.
Dr. Arya – who is also a board member of the Canadian Society of Palliative Care Physicians and the chair of the Choosing Wisely Committee for Palliative Care – has worked to develop a robust shared model of palliative care in long term care homes, working with primary care physicians, nurse practitioners, nurses and administrators, to deliver quality care to residents. He has also led the development of an Osler initiative to use point-of-care ultrasound machines for patients with palliative care needs, helping them to be treated on-the-spot to reduce suffering. An advocate for equity in health care and the community, Dr. Arya regularly presents workshops on cultural safety and antiracism, and its impacts on palliative care.
"I am passionate about ensuring that all people – and their families – have access to palliative care," Dr. Arya says. "Palliative care is not just end-of-life care; it's care for the living, too."