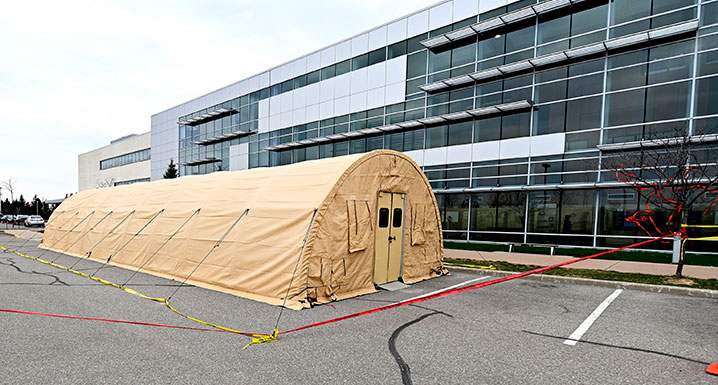 Tents have remained unused throughout the COVID-19 pandemic
Beginning today, temporary triage tents that were erected outside of Brampton Civic Hospital and Etobicoke General Hospital during the height of the pandemic, will be taken down.
The addition of the tents to the hospital sites was a short-term solution for the spring/summer to ensure the hospitals were well-prepared to care for an increasing number of patients, and provided added capacity for Osler's Emergency Departments (ED) through the pandemic. The tents have remained unused.
GlobalMedic, a registered Canadian charity that runs capacity-building programs and provides disaster relief services around the world, generously provided and installed the tents in April.
"As part of our robust pandemic plan and our many proactive steps to ensure the hospital is well-prepared, Osler has managed its capacity and patient volumes effectively through the pandemic," said Kiki Ferrari, Executive Vice President, Clinical Operations. "We continue to evaluate our efforts, as well as implement new strategies to help address what could be potentially-higher volumes of patients coming to our hospitals during any further waves into the fall."
"We are so grateful to GlobalMedic for their generous donation of the temporary triage tents, and for supporting Osler during a very challenging time," Ferrari added.
The tents will be taken down beginning this morning (Thursday, July 30) at Brampton Civic Hospital (Parking Lot 7), and at Etobicoke General Hospital on Wednesday, August 5 (in Emergency Department Lot B).