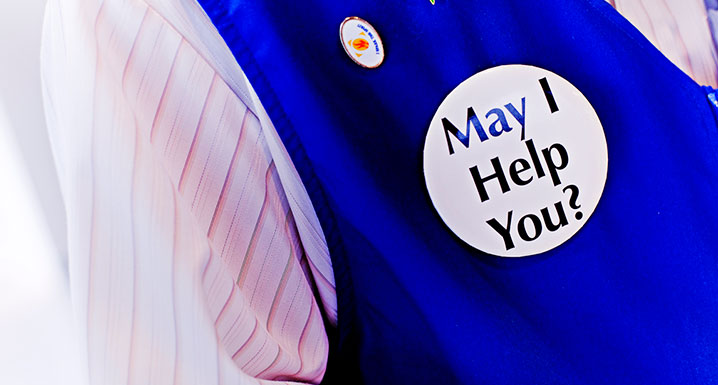 Osler's 1,200 volunteers have long been an essential part of daily life at our five sites, widely known for going that extra mile to support a great patient and family experience. Last month, with the onset of COVID-19 in our communities we temporarily reduced the number of volunteers servicing Osler as a health and safety precaution and implemented our Pandemic Plan.
Not surprisingly, some of our volunteers have since found other ways to continue to soar – giving of their time from off-site locations to knit items for newborns and work on future volunteer initiatives. Those that remain at our sites include a dynamic group of 50 volunteers who exemplify what it means to live Osler's promise of Going Beyond. You'll find them filling meaningful roles in support of Osler's COVID-19 response, including assisting with supporting everyone's safety and helping to ensure patients and families remain connected when it's not possible to visit.
"We work with the patients and the clinical staff who are taking care of the patients, and with the family members as well to coordinate a time that works for all of them," said Gurleen Braich, a volunteer who assists staff and patients with virtual visitation. "This is a great way to connect them and keep the community safe as well."
At Osler, we could not be happier or more proud of the ongoing commitment of our volunteers.
"We are so very grateful for the support of our volunteers," Brenda Bushey, Director - Board and Volunteer Relations. "They too are on the frontlines doing invaluable work that makes a difference every day in the lives of our patients, their families, and our health care workers. We are truly appreciative of their efforts."
"I have to be doing something positive to help people," said David Lewis, a Screening and Way-finding Volunteer. "I realize the importance of what we're doing here and to be honest, I'm just so glad to be here."
As we mark Volunteer Appreciation Week this year, we do so thankful for the spirit of volunteering that continues to echo loud and clear throughout Osler's sites during these extraordinary times.
Join us in applauding our extraordinary pandemic volunteers, as well as all Osler volunteers for their unwavering commitment to our patients, family, staff, physicians and communities.