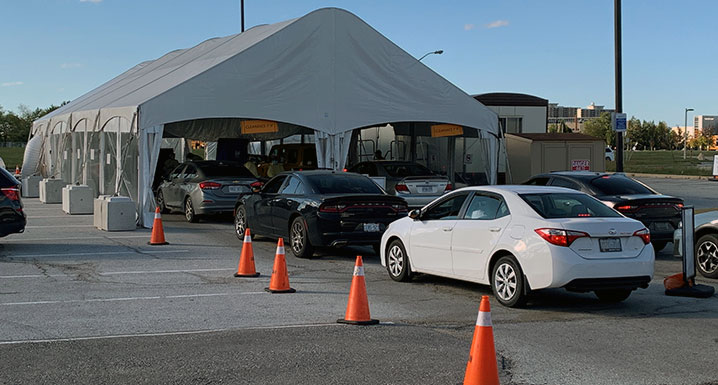 William Osler Health System (Osler), which operates the COVID-19 Testing Centre located at South Fletcher's Sportsplex in Brampton, is temporarily closing the Testing Centre for one day on Wednesday, October 7, to conduct essential maintenance and winterize the facility in preparation for colder weather.
The closure is separate from Osler's transition to an automated appointment-booking process at the Centre, which began on Sunday, October 4, after the Ontario Government directed all Testing Centres to begin testing by appointment-only. Osler – which currently has an in-person appointment-booking process – will switch to an automated phone and online system in the days ahead, and full details will be shared with the public.
The Brampton COVID-19 Testing Centre will reopen on Thursday, October 8, with normal hours of 8:00 a.m. to 6:00 p.m. to serve people with scheduled appointments.
The facility, which occupies a portion of the north parking lot at the City of Brampton's South Fletcher's Sportsplex, is a drive-thru model with significant outdoor infrastructure. With colder weather on the horizon, Osler is taking proactive steps to ensure the safety, well-being and comfort of patients and staff the COVID-19 Testing Centre.
Those wishing to book an appointment for a test on another day may still visit the Brampton COVID-19 Testing Centre on Wednesday, October 7, to book an appointment despite the temporary closure. Information about COVID-19 testing options will also be provided to anyone who arrives onsite.
Osler's Etobicoke COVID-19 Testing Centre (Highway 27 and Queen's Plate Drive) remains open to those with appointments and Osler's COVID-19, Cold and Flu Clinic will continue to see patients who meet the COVID-19 testing criteria and those who have symptoms and want to see a doctor, on a walk-in basis.
For more information visit our dedicated COVID-19 webpage.