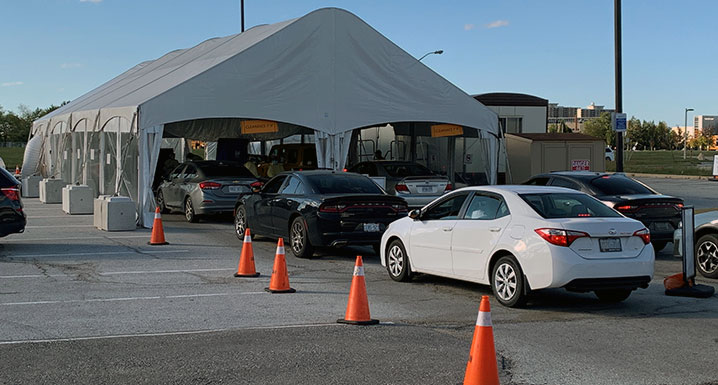 After outdoor facility sustains damage due to wind storm, Osler is working to complete repairs and reopen as soon as possible
William Osler Health System's (Osler) Brampton COVID-19 Testing Centre at South Fletcher's Sportsplex is temporarily closed for repairs after the outdoor facility sustained some damage during a severe wind storm on Sunday, November 15.
To ensure the health and safety of patients, all appointments scheduled at the Brampton COVID-19 Testing Centre for Monday, November 16, have been cancelled to allow for repairs to be completed. People who have appointments scheduled for today are being contacted directly and appointments will be re-booked for another day.
The next available appointments at the Testing Centre are on Wednesday, November 18, when it is slated to resume normal operations of 8:00 a.m. to 6:00 p.m. If the repairs are completed earlier, the Testing Centre will reopen sooner.
The health and safety of patients and staff is Osler's number one priority. Osler appreciates the community's patience as work is underway to resume normal operations as quickly as possible.
Osler's COVID-19, Cold and Flu Clinic (Peel Memorial Centre for Integrated Health and Wellness) and Etobicoke COVID-19 Testing Centre (Highway 27 and Queen's Plate Drive) remain open. For more information including other testing centre locations, please visit our dedicated COVID-19 webpage.