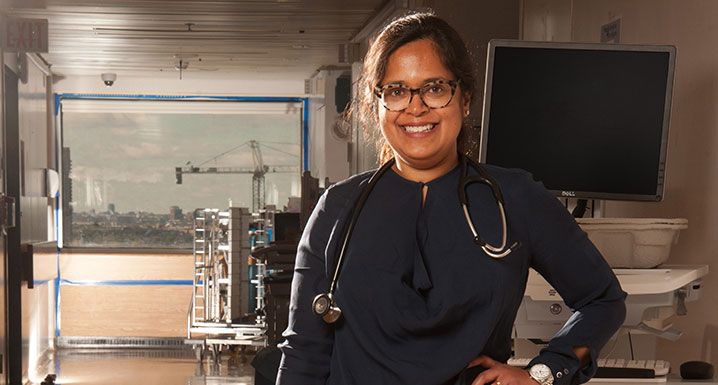 What we've learned and what you can do
Dr. Mahin Baqi, an Infectious Diseases Specialist with William Osler Health System, answers some frequently heard questions and offers advice to help you stay healthy over the coming months.
As we enter a second wave of COVID-19 what have we learned from the first wave that can help us this time around?
We know a lot more about COVID-19 now than we did in March. For example, we now know that people with mild to moderate disease are most infectious in the 48-hours before they begin to show symptoms. They continue to be infectious for about 10 days after their symptoms start. For those with severe disease or those who are severely immunocompromised, they may be infectious for 20 days from the onset of symptoms. That's very useful information.
It has also been confirmed beyond doubt that wearing a mask is one of the best defences in preventing virus transmission. We have also learned much more about the therapeutic drugs that can be used to help treat moderate or severe cases of COVID-19.
Some cold and flu symptoms are similar to symptoms of COVID-19. What should people do if unsure which illness they have?
If a runny nose is not normal for you and you don't have allergies, wait for 24 hours. If you then develop new symptoms such as muscle aches, a fever or headache, make an appointment to get tested for COVID-19. Meanwhile, isolate yourself and stay home. When you go for your appointment, remember to wear a mask. Learn more about Osler's COVID-19, Cold and Flu Clinic and COVID-19 Testing Centres.
When should a person self-isolate?
If you have cold or flu-like symptoms or you suspect you have been exposed to someone with COVID-19, you should make an appointment for a COVID-19 test and plan to self-isolate for at least 14 days from the time of exposure.
After your test you should continue to self-isolate until you get your test results. If your test result is positive, you should follow the self-isolation and treatment instructions you are given. If your test result is negative but you still have symptoms, you should self-isolate until the symptoms are completely gone and then wait a further 24 hours, just to be sure, before you go back to work or have contact with any other people. These symptoms may represent another communicable viral illness.
What's the most important advice you can give to help everyone stay safe and healthy this winter?
It's more important than ever to get the flu vaccine this season. You'll be taking care of your health and protecting others, particularly the elderly. You will also be helping to reduce the strain on our emergency departments and health care system as a whole. Elderly and immunocompromised individuals should stay home.
Continue to practice frequent handwashing and physical distancing, wear a mask whenever you are in a place or situation when you can't maintain physical distancing, and limit your social circle.
About Dr. Baqi
Dr. Mahin Baqi is an infectious diseases expert and an integral member of Osler's COVID-19 response team. She is known for her meticulous work in researching evidence to support decision-making, her commitment to sharing knowledge across and beyond the organization, and for going above and beyond in her efforts to help make Osler hospitals safe places for patients, visitors and staff.
Dr. Baqi's contributions throughout the pandemic have been numerous and varied. She's part of Osler's Incident Management Team contributes to public health discussions on outbreaks, and advises other physicians on the policies, processes and practice guidelines needed to effectively respond to the virus.
As a physician, Dr. Baqi's contributions predate the pandemic and will undoubtedly extend beyond it – but it's her consistent selflessness and excellence that truly sets her apart.