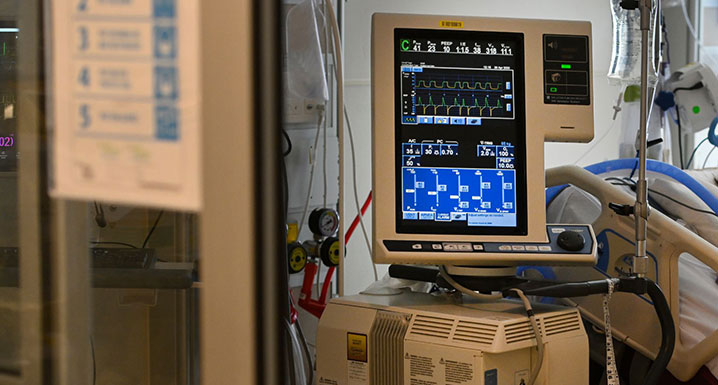 Our community's health care heroes are caring for all those who need them, through the COVID-19 pandemic and beyond
Early in the new year, when the threat of COVID-19 seemed far away for most, physicians, infectious diseases experts and staff across William Osler Health System (Osler) had already jumped into action, getting Osler's hospitals ready for what would eventually become an official worldwide pandemic. They worked around the clock to prepare for the worst-case scenario and support the community in fighting the virus.
This included opening up COVID-19 Assessment Centres to assist with testing, ramping up testing efforts as case numbers increased, and providing life-saving care when the number of COVID-19 cases and hospitalizations began to rise. To date, more than 190,000 COVID-19 tests have been completed across Osler's sites—more than any other hospital in Ontario.
Our communities were hit particularly hard and many months later our health care heroes are still working tirelessly to keep our communities safe and healthy as our hospitals start to resume non-urgent service.
In March, Osler Foundation set out to raise funds to support our physicians and staff in the fight against COVID-19. Thanks to more than 3,500 donors, our Health Care Heroes campaign has raised $2.5 million to support Osler's response to COVID-19.
Thanks to matching gifts, donations were doubled and, to date, we've purchased:
38 adult ventilators
4 vein finders
53 electric beds
40 vital signs monitors
Lab equipment that enables Osler to process COVID-19 tests in house
All equipment in a hospital must be funded by the community. In the midst of a health crisis like COVID-19, donations become more important than ever. To help meet the ongoing health care needs of the community, we are setting out to raise an additional $2.5 million (total of $5 million) to help purchase essential items, like ventilators, vital signs monitors, vein finders, stretchers, wheelchairs and electric beds. To help mobilize the community behind this new fundraising goal, Armour Insurance Brokers Ltd. will generously match new donations—dollar for dollar—up to $500,000.
"What donors need to understand is their gifts, their generosity, means so much for our ability to fight this, more than they'll perhaps ever know," says Dr. Sergio Borgia, Corporate Chief of Infectious Diseases. "Donors are an extension of the response team. If I could grow five more arms and each of those arms be a donor, think of how much farther my reach would be."