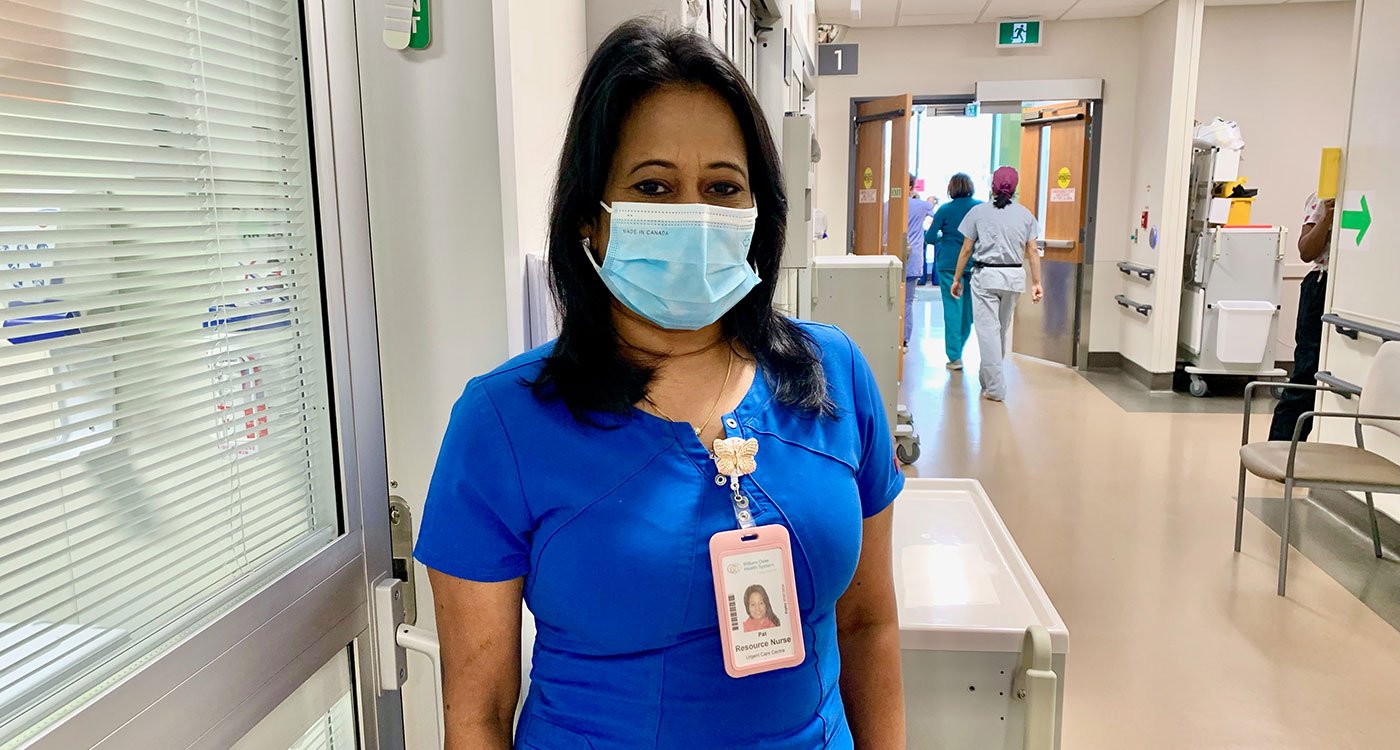 On December 6, Pat Somasundaram, a resource nurse in Peel Memorial's Urgent Care Centre (UCC), arrived for her first shift in the UCC since it closed in April 2020. Pat, like many of her colleagues, had been redeployed to another area in the hospital to support care where the need was greatest during the height of the pandemic. We caught up with her to find out a little more about her role at the UCC and why she's so excited to be 'back home'.
What are some of the roles and responsibilities of a resource nurse?
A resource nurse works with patients, families and other health care professionals to ensure every patient has a positive experience. They are the 'go to' people for staff who have questions about patient care; they're responsible for patient flow, from the moment a patient is greeted at the entrance until they leave the unit. They make sure the clinic is stocked with all the necessary supplies and tools, attend emergency calls in the building, manage staffing and much more.
What does a typical day look like for you?
There is really no such thing as a typical day in the UCC. I never know what twists and turns my day might take. Whatever happens, I focus on making sure patients get the right care, at the right time. I use my critical thinking skills to triage the sickest patients to ensure they receive timely care and rely on my team for their support.
How does it feel to be back at the UCC?
We're all so exited to return 'home' to the UCC. When the UCC opened in 2017, it was staffed by people from both Brampton Civic and Etobicoke General. We created a family there, providing excellent care with outstanding work ethic. We celebrated birthdays, weddings and baby showers together, and mourned deaths together as well. I really missed my UCC family. I'm happy to be back with my UCC family and working together as a team to care for our community.
What are the three words you would use to describe your role?
Organized: You have to be very well organized to lead the team.
Critical thinker/reliable: You need to be an assertive, quick, reliable decision-maker to be effective in this role.
Team player: You cannot do this job alone. You need to be flexible and work as a team.
What inspires you to get out of bed in the morning?
The past two years have been challenging for everyone. Every morning I'm so grateful to have the ability touch someone else's life. My passion towards nursing keeps me going, even on the toughest days.
I try every day to live Osler's values, which to me means treating patients with respect, being their advocate and always showing compassion.