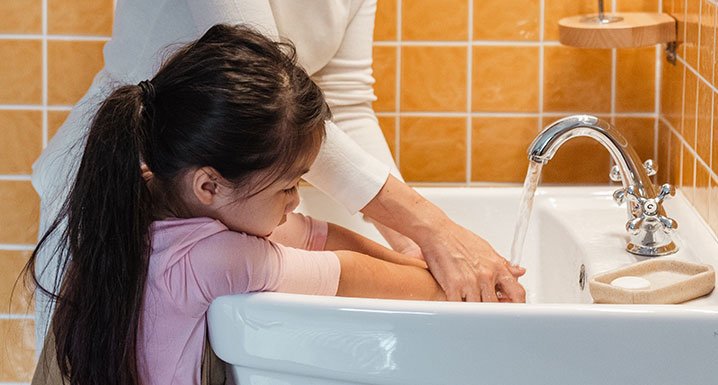 If someone in your household gets sick, it can get passed along to those you live with. With the rise of COVID-19, reducing this risk is more important now than ever. To protect yourself and your loved ones, there are several things you can do to protect yourself and each other from the spread for COVID-19 at home.
Set routines and make safe choices
If someone you live with is at a higher risk, everyone in the household should act as though they are high-risk as well. And even if not, here are some simple rules you should follow:
Wash hands often with soap and water, and when not available, use an alcohol-based sanitizer.
Refrain from touching your face without washing your hands first.
Cover your cough and sneezes properly.
Clean and disinfect your home regularly, especially regularly touch surfaces like doorknobs and counter tops.
Do not have visitors unless they are essential.
Eat together safely
Make sure everyone washes their hands with soap and water for at least 20 seconds before eating. While eating, ensure dish ware is clean and everyone uses their own dishes and utensils - no sharing!
If you are sick, eat separately if you can, and do not help with any food preparation.
Model safety behaviours for children
If there are children in your household, teach them to model the same behaviours as others to prevent the spread of COVID-19.
Restrict playdates with children from other households and teach your kids how how to stay 6 feet away from others if they are playing outside. Help them stay connected with video and phone calls with friends.
Minimize your contact with others outside of your household
When you live with others, their direct contacts outside of the home become yours too. Avoid contact with people who do not live in your home as much as possible to protect your household members.
Stay home as much as possible, but if you do have to go out, take the following precautions:
Avoid touching frequently touched surfaces like handles, handrails, and elevator buttons. If you must, wash your hands with soap and water or sanitize afterwards.
Don't ride in a car with anyone outside your household.
Source: Osler's Infectious Diseases team, City of Toronto, CDC