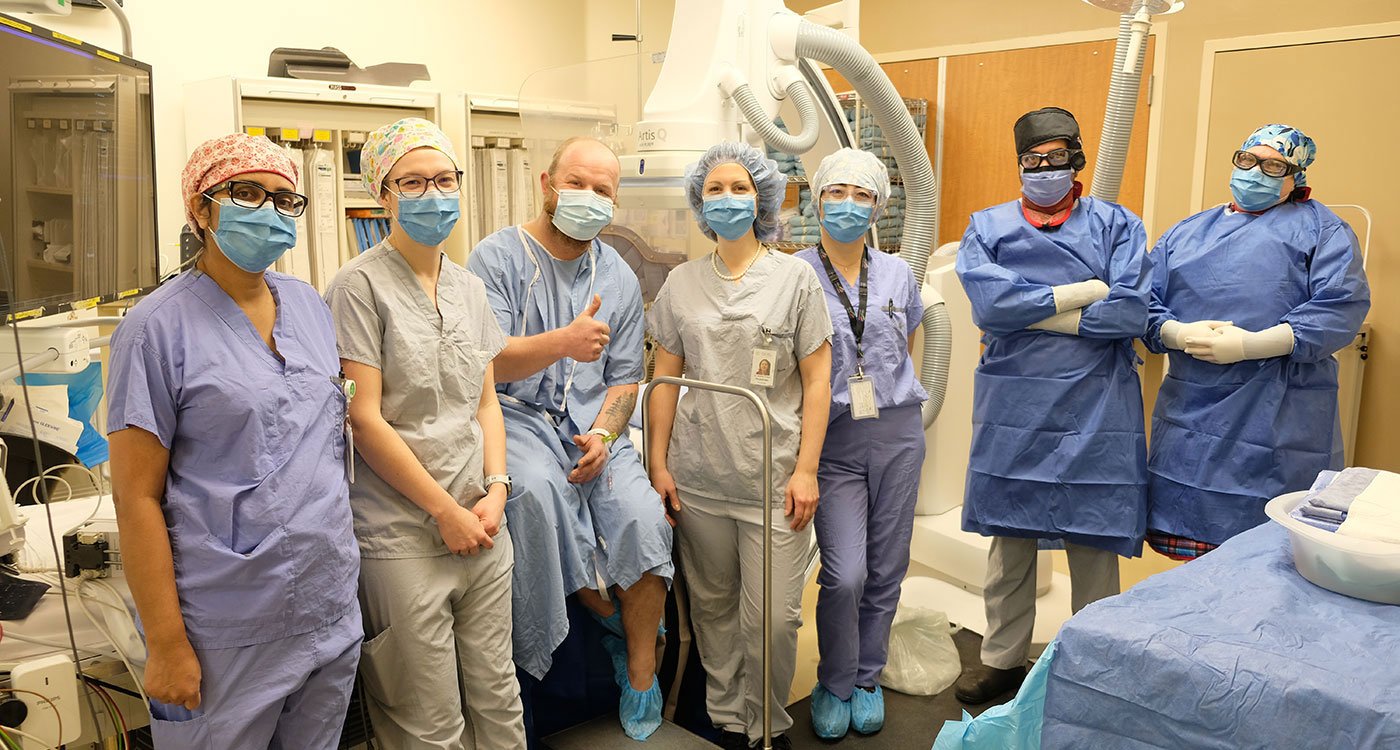 Members of Osler's Cardiology team got a 'thumbs up' from patient Ryan Siddle before performing the hospital's first-ever implantable cardioverter defibrillator (ICD) surgery at Brampton Civic Hospital.
Siddle, 41, who is recovering after a smooth surgery, said he was happy to have been a part of this milestone moment for the hospital, which allowed him to access this potentially life-saving procedure, close to home.
Osler Electrophysiologist Dr. Amelia Ciofani, who performed Siddle's surgery on January 26, 2023, said the ability to implant ICDs at Osler is a huge benefit for patients. "One of the main goals of our program is to provide patients in our community with care close to where they live so that it's convenient for them, but also so that we can maintain continuity of care."
Now, patients will be able to receive both their routine follow-up care and any emergent care required at Osler, with no need to travel outside of their community, for a more streamlined, coordinated experience.
A small device with a computer, ICDs are used to regulate abnormal, life-threatening heart rhythms and to prevent and treat cardiac arrest. Some specialized ICDs with cardiac resynchronization can also help patients with shortness of breath and heart failure to have better exercise tolerance. ICDs continuously monitor the heart rhythm and, when necessary, generate an electrical shock to restore a normal heart rhythm.
Siddle said his diagnosis came unexpectedly last year after he passed out multiple times while playing baseball. "It took three times for me to realize that I needed to go and see someone." A former Brampton resident now living in Orangeville, he said it is much easier for him to travel to Brampton for his care than make the journey into Toronto. He is pain-free, easing back into work with the peace of mind in knowing that the ICD will detect and treat any future heart rate irregularities.
Dr. Ciofani said the plan right now is to perform 100 ICD procedures a year to start, but believes there is plenty of room to grow based on the need in the community. "We have many patients that would potentially benefit from these devices, and they have been going elsewhere for their treatment, surgeries and follow-up," she said.
At Osler, the two physicians with the expertise to perform the ICD surgery are Dr. Ciofani and Dr. Michael Mohareb, supported by physicians from St. Michael's Hospital, Osler's mentor site.
"The implantation and follow-up team also includes our phenomenal nurses, who received special training through St. Michael's Hospital, and without whom the program would not have been possible," said Dr. Ciofani. "Without the nursing support we have, we wouldn't be able to do these implants and provide a follow-up clinic."
Reflecting on the team's mood on the day of the first surgery, Dr. Ciofani replied, "happy, excited and definitely celebratory. I think everyone was pleased to see the program come to fruition, and to see that this is possible."
There is a significant demand for cardiac care in the communities served by Osler, which has a high burden of cardiovascular disease. Already home to a robust and growing cardiac program, Osler continues to ensure patients have access to high quality, compassionate care close to home.